Crowdfunding bill backed by US House of Representatives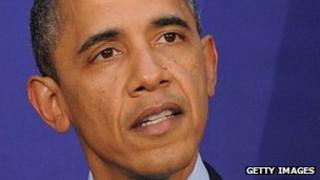 Raising money for start-ups via the internet is set to become easier after a new bill was backed by the US House of Representatives.
Supporters of the Jumpstart Our Business Startups Act (Jobs) said it would help firms to "crowdfund" capital from small investors.
However, critics have warned the measures could lead to increased levels of fraud.
President Barack Obama is expected to sign the bill soon.
The proposalswere supported overwhelmingly in the House with members voting 380-41 in favour. It was backed earlier in the week by the Senate.
Crowdfunding has become an increasingly popular way for small companies to gain early investment using the internet.
US-based site Kickstarter has raised millions of dollars for mostly arts and media projects.
The biggest of these,a video game called Double Fine Adventure, raised more than $3m (£1.9m) from over 80,000 backers.
However, while sites like Kickstarter provide funds on a philanthropic basis, the Jobs Act intends to allow small-scale investors to own equity in companies they back.
Up to $1m can be raised via crowdfunding, or $2m for companies that provide investors with fully audited financial statements.
Currently, small businesses with more than 500 investors must open up their books to US financial regulators.
In the proposed bill, that threshold is raised to 2,000. It would, backers said, reduce red tape and cut the costs of running a business.
'Petri-dish of fraud'
The bill has been largely welcomed by start-up companies looking to secure vital funding in a year when lending by US banks is expected to drop.
Michael Lipton, founder of digital firm Breakfast, told the BBC the measures meant a wider array of businesses could be created.
"If someone believes in an idea and believes in a company's strategic vision, they should be able to put their capital behind it," he said.
However Jesse Eisinger, a finance reporter for the US news website ProPublica, described the proposals as a "petri-dish of fraud", and dismissed pledges it would lead to significant job creation.
"It's a bad deal for the retail investor," he told the BBC.
"They're going to get solicitations online, they're going to be asked for small investments.
"The only jobs that are really going to benefit from this are fraudsters, shills and Wall Street analysts."