Analysis: RIM's Blackberry strategy may be risky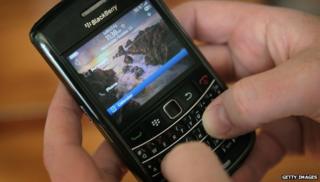 For those listening in to the conference call with Research in Motion (RIM) chief Thorsten Heins, two things stood out.
Firstly the German's remarkably candid dissection of the faults in the troubled business he inherited at the start of the year.
Secondly, just how serious the Blackberry-maker's faults were.
"These are difficult times for shareholders," Mr Heins began.
"And it is likely the next few quarters will be challenging."
Challenging may be an understatement, the next few quarters follow what has been an extremely difficult 12 months for the Canadian company.
Major reshuffle
In January, the resignation of the firm's co-chief executives Mike Lazaridis and Jim Balsillie came at a time when shareholders demanded a significant change at the top.
Months of falling sales, high-profile service blackouts and poorly-received products made the major reshuffle inevitable.
With Mr Lazaridis and Mr Balsillie aside, Mr Heins - who was promoted from within - set about planning dramatic changes to a company he deftly described as suffering from "growing pains".
Yesterday's announcement was the first big one. Blackberry would, Mr Heins said, return to concentrating mainly on what it does best: business communications for business people.
It was this focused approach in the firm's early days that made it one of the world's fastest growing companies. A mixture of accessible interface and trusted security made it the handset of choice for business, a device so popular it was dubbed the Crackberry.
However, retuning the thrust of its efforts to the business sector may seem like a safe, comfort-blanket approach to reviving RIM's ailing fortunes. Industry experts were not so sure.
"Things are really going to be very challenging for them," said Roberta Cozza, research director for Gartner.
"Even within enterprise, today more than in the past, in order to win into the enterprise market you often need to win the consumer market.
"The distinction between a business user and the consumer has blurred so much."
Further pressure
She refers to a well-documented and growing trend known to the industry as Bring Your Own Device, or BYOD.
Increasingly, workers have put pressure on the usually walled-garden approach of corporate IT by insisting they are allowed to use their own smartphone, tablet or computer.
Unfortunately for Blackberry, this means consumers are more likely to turn to their iPhone or Android phone to check both personal and work emails. Soon, Windows 8 will muscle in to add further pressure.
Yet, a renewed focus from the company may work in its favour. Once seen as leading innovators in the business space, Blackberry could again produce technology which makes business easier.
In a few months, RIM will release its latest incarnation of Blackberry Mobile Fusion - software which it says will enable companies to securely manage mobile devices within their network, be they Blackberry, Apple or Android.
If it becomes a success, it may just signal a change in RIM's fortunes.
"They'll come up with new ways of monetising what they do," assured Graeme Neill, deputy editor of Mobile Magazine.
"Blackberry was a strong brand - they want to claw back some of this."
Emerging markets
Another shining light for the company, Mr Neill said, was its successful inroads into the emerging mobile markets in less-developed parts of the world.
Blackberry Messenger, popular with teenagers in the Western world looking to save money on texts, is equally as popular in developing countries as a cheap means of staying in touch.
"If we look at those users that are in emerging markets, the brand is not as diluted," said Gartner's Ms Cozza.
"There are users in some emerging markets that want to show off their Blackberry device."
However, she warned that it was not just RIM who was looking to exploit this region - competition from the likes of Nokia and Android-powered handsets will step up further. In the conference call, RIM's Mr Heins said that the impending tussle for share was a concern - and that lower-cost handsets would be unveiled soon.
When concerned shareholders happily saw Mr Lazaridis and Mr Balsillie step down, they demanded a chief executive who would strip down the business to its core values. RIM faces a difficult future, but industry watchers are largely in agreement that this was a solid start.
"No part of the business was left unexamined," remarked Mobile Magazine's Mr Neill.
"What's going to be fascinating is seeing if they're capable of turning it around."