Privacy backlash over Girls Around Me mobile app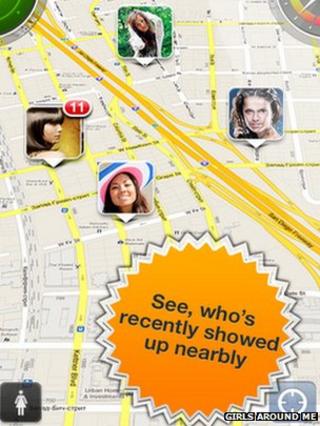 An app that allowed users to find nearby women who had "checked in" on a social network has been withdrawn by its developer after complaints.
Russian developer i-Free removed its Girls Around Me app which used publicly available data from Foursquare.
Foursquare, a location-based social network, has already revoked the app's access to its data.
A company representative for i-Free said the reaction to the app was a "serious misunderstanding".
In a statement given via email to the Wall Street Journal, the company said: "We believe it is unethical to pick a scapegoat to talk about the privacy concerns.
"We see this wave of negative as a serious misunderstanding of the apps' goals, purpose, abilities and restrictions.
"Girls Around Me does not provide any data that is unavailable to user when he uses his or her social network account, nor does it reveal any data that users did not share with others."
'Wake-up call'
The company added that it had removed the app, which has been downloaded over 70,000 times, from the iTunes app store due to a recurring fault.
The app is powered by pulling data from Foursquare, which people use to "check in" to locations such as a shop or a bar. In the US, where the app is most popular, it is common for businesses to offer special deals to those who check in on the site.
In addition to the location data, the app used associated Facebook information to display images of nearby users - allowing people with the Girls Around Me app to view profiles in a map format.
Depending on a user's privacy settings, other information such as relationship status and photographs can be seen.
Popular Apple blog Cult of Mac described the app a "wake-up call about privacy".
Blogger John Brownlee wrote: "Girls Around Me isn't an app you should use to pick up girls, or guys for that matter.
"This is an app you should download to teach the people you care about that privacy issues are real, that social networks like Facebook and Foursquare expose you and the ones you love, and that if you do not know exactly how much you are sharing."
The developer has said it will develop the app further to make sure only check-ins at public venues are displayed to users. It is also working on an Android version of its app.
However, neither versions will currently function while Foursquare prevents i-Free from using its data.