Trip Advisor adds its voice to Europe's Google probe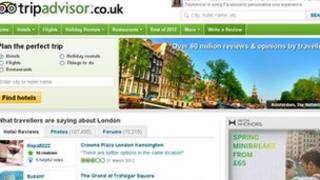 Holiday review site Trip Advisor has joined the swelling ranks of firms complaining to the European Commission about Google.
It joins travel firm Expedia and 11 others in accusing the search giant of abusing its dominant position, a claim being investigated by the commission.
EU commissioner Joaquin Almunia said a decision would be made after Easter over whether to formally charge Google.
Google denies claims of "anti-competitive and unfair practices".
Trip Advisor's statement said: "We hope that the commission takes prompt corrective action to ensure a healthy and competitive online environment that will foster innovation across the internet."
In response Google said: "We've been working closely with the commission to explain how our business works since their investigation began. We haven't seen this complaint yet, but will continue to discuss any concerns with the commission, knowing that there's always room for improvement."
US probes
Google Places, which offers reviews of hotels and restaurants, has put the search giant into direct competition with travel firms such as Expedia and Trip Advisor. Google also launched a flights search tool in September 2011.
The current EU probe was kickstarted in February 2010 by specialist search engine Foundem. It alleged that Google's algorithms "remove legitimate sites from [its] natural search results, irrespective of relevance".
It also said that the firm promoted its own services over those offered by competitors. Since then the commission has received a flurry of similar complaints.
In November 2011, it announced that it would investigate.
Google offers two types of search result - unpaid results produced by the firm's algorithms that are displayed in the main body of the page and "ads", previously called sponsored links.
The EU investigation is attempting to determine whether the firm's method of generating unpaid results adversely affects the ranking of other firms, specifically specialist search providers known as vertical search services.
Google is facing similar attention in the US, where a Senate subcommittee and the Federal Trade Commission are looking at whether it abuses its market position.
Rival Microsoft faced years of similar anti-trust investigations which culminated in heavy fines.
Misleading ads
In a further blow to the search giant, an Australian court Tuesday found it guilty of breaching trade law by hosting misleading or deceptive advertisements.
It could prove to be a significant ruling because it is the first time that search engines have been held responsible for their advertisers' content.
Three federal court judges unanimously overturned a lower court's ruling from September last year that Google was not responsible for advertisers' breaches of Australia's Trade Practices Act.
The appeal court ruled that Google had engaged in misleading or deceptive conduct with four ads that appeared on its Google Australia website. The advertisers used the names of competitors as keywords to trigger their own ads appearing.
The court ruled this was likely to mislead people searching for information about those competitors and ordered Google to make changes to prevent future breaches.
Google said it was disappointed by the decision and is considering its options, which could include a High Court appeal.