Minecraft maker reveals new 'hard science-fiction' game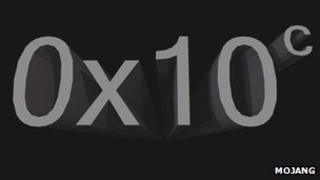 The creator of the hit video game Minecraft has revealed the first details of his follow-up project
Markus "Notch" Persson said thegame was provisionally titled 0x10c, space-themed and set in the distant future.
Unlike in Minecraft, users are "likely" to be charged a monthly fee to take part in multiplayer games.
Close to five-and-a-half million copies of Minecraft have been sold despite it lacking a third-party publisher and marketing campaign.
Mr Persson's development company, Mojang, managed to build strong word-of-mouth appeal by releasing the title at an early stage and letting users shape how it grew.
Mr Persson said he planned a similar tactic for 0x10c.
Ancient universe
He said the storyline involved a group of humans who were accidentally put into extended deep sleep in 1988, and woke up more than 281 trillion years later.
The universe is described as being on "the brink of extinction" and users take part in space battles, looting, trading and planet mining operations.
Mr Persson said he intended the title to follow therules of "hard science fiction".
"I will try to make sure that the science in the game has some kind of plausible theoretical basis in reality," he wrote.
"As few hand-wavey things as possible, with the rest rigorously explained. If you're an expert on a field that I've made a mistake in, PLEASE let me know!"
In-game computers
While Minecraft's appeal centres on users' ability to reshape the environment that their character lives in, 0x10c offers the challenge of being able to program an emulated 16-bit computer processing unit which "powers" the player's spaceship.
Mr Persson said users would be able to create their own operating systems for the CPU, and once enough user-generated software had been created, people could use it "like ordinary computers" to run other games or carry out other functions.
However,he warned on Twitter: "I won't stop viruses, the players will have to do that themselves."
Industry watchers expect the news to generate a lot of excitement.
"Everybody has been looking to see what 'Notch' and Mojang would do next as Minecraft was so successful and different," said Nathan Brown, online editor of the games magazine Edge.
"It turned business models on its head, letting people buy in early and be involved in how it developed. However, it is interesting that this groundbreaking forward-thinking studio is looking at a charging a monthly subscription - that's something that's been associated with older titles such as World of Warcraft."