Google's Larry Page defends privacy policy in letter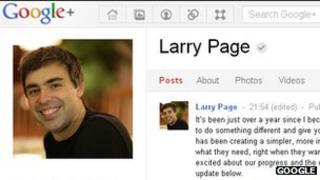 Google's chief executive has marked his first year in the job with a letter setting out his vision for the future.
Larry Page promises what he terms"next-generation search"in which query results become less generic and more tailored to each individual user.
He also defends changes to the firm's privacy policies, saying they will create a "more intuitive experience".
However, the post does not include any major revelations, coming a week ahead of Google's first quarter earnings.
A decision by the company to allow private data collected by each of its services to be shared with its other platforms has caused controversy.
Last month the European Union's justice commissioner, Viviane Reding, suggested that "transparency rules" had not been applied. Data regulators in France also cast doubt on the move's legality.
Google said at the time that it believed it complied with EU law.
Knowledge-powered search
In his letter, Mr Page defends the move and suggests users will appreciate the changes Google can now make.
"If you're searching for a particular person, you want the results for that person - not everyone with the same name," he wrote.
"These are hard problems to solve without knowing your identity, your interests, or the people you care about."
He goes on to suggest that the more information people post about themselves and others to its Google+ social network, the better the results will become.
He says over 100 million users are now active on the site, noting that whenever he posts publicly he gets "a ton of high quality comments".
However, analysts suggest the figure masks wider issues.
"They still need to work on engagement," Colin Gillis, technology analyst at BGC Partners told the BBC.
"Time spent on the Google+ is still minuscule when compared to Facebook and revenue from the site is immaterial."
Driverless cars
Mr Page hints at further changes saying that: "I've pushed hard to increase our velocity, improve our execution, and focus on the big bets."
He highlights the firm's research into driverless cars as a future opportunity, noting that a man classed as legally blind recently used one.
"The one-sentence summary of how to change the world... work on something that is uncomfortably exciting," he adds.
However, there is no mention of the firm's augmented reality glasses, unveiled on Wednesday. An earlier post on his home page simply notes that Project Glass is "in the very early days".
Nor is there a reference to the patent battles surrounding the firm's Android system for mobile phones.
Apple attack
In an interview published this week by Bloomberg Businessweek,Mr Page played downApple's former chief executive Steve Jobs' threat to "destroy Android because it's a stolen product".
"I think the Android differences were actually for show," Mr Page said.
"For a lot of companies it's useful for them to feel like they have an obvious competitor and to rally around that."
However, comments by Mr Jobs' official biographer Walter Isaacson call this into question.
Macworld magazine quotes Mr Isaacson as saying that Google's perceived "rip-off" of Apple's iOS system had "infuriated" Mr Jobs and led him to "go thermonuclear" on his rival.