Facebook buys Instagram photo sharing network for $1bn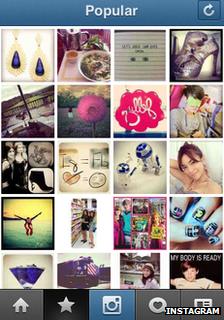 Facebook has announced it is to buy Instagram - the popular photo-sharing smartphone app.
Facebook is paying $1bn (£629m) in cash and stock for the takeover.
Instagram was only launched in October 2010 - initially just for the iPhone before being offered as an Android app last week.
Facebook's chief executive Mark Zuckerberg has pledged to continue to develop Instagram as a separate brand, allowing it to post to rival networks.
The app is free and allows users to apply 17 filters to the pictures they take - changing the colour balance to give the images a different feel - before they are uploaded.
It has proven hugely popular. The firm says that it has more than 30 million users uploading more than 5 million new pictures every day.
Paul Kedrosky, a tech investor and author of the Infectious Greed blog, told the BBC: "I understand Instagram has 13 employees - so at $77m a head that makes it the most expensive business deal in history that I can think of."
"We plan on keeping features like the ability to post to other social networks, the ability to not share your Instagrams on Facebook if you want, and the ability to have followers and follow people separately from your friends on Facebook."
He added: "This is an important milestone for Facebook because it's the first time we've ever acquired a product and company with so many users. We don't plan on doing many more of these, if any at all."
Mr Kedrosky said the speed of the deal was unusual.
"I'm told it also came together very quickly, like a lightning strike.
"After launching on Android last week and adding one million users a day, it became obvious that this wasn't just a photo sharing app - it was a competitive social network, and the concern may have been that there would be rival bids.
"That's the only reason to think Facebook would have done this in the quiet period ahead of its flotation."
The deal marks the second time in four months that Facebook has taken on staff from another social network.
In December, it announced it was hiring the co-founders of the location-based check-in service Gowalla. The network closed down shortly afterwards.
The moves come ahead of Facebook's planned flotation later this year. The firm reportedly plans to issue $5bn worth of stock on the New York-based Nasdaq exchange in May or June. The deal could value the firm as being worth as much as $100bn.
Related Internet Links
The BBC is not responsible for the content of external sites.