Fake semiconductors 'could cause tragedy'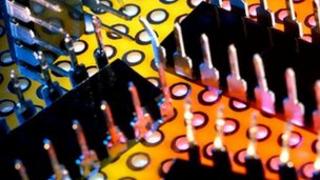 The number of fake memory chips and processors in use has tripled since 2009, suggests a report.
The report, compiled by semiconductor analyst IHS iSuppli, said fakes were found in phones, computers, military hardware, cars and hospital equipment.
The analyst said the fakes were turning up in so many places that they might soon put lives at risk.
The military and aerospace firms were the most likely to be using fakes, it said.
Chip police
More than 1,363 fakes were reported in 2011, said the report, and threatened to dent a market worth more than $169bn (£109bn) a year.
The five most widely counterfeited chips included memory chips, microprocessors and analogue integrated circuits (IC).
Analogue ICs are widely used in domestic gadgets such as wireless routers, TVs and computers.
Typically, said iSuppli, the fake parts were low cost copies of widely used semi-conductors or components discarded by chip firms during fabrication.
Manufacturing wastage for semi-conductors is high because the components are stringently tested to ensure they will perform reliably throughout their life.
Rory King, a spokesman for iSuppli, said using counterfeit chips could have serious consequences because they were much more likely to fail.
"A faulty counterfeit analogue IC can cause problems ranging from a mundane dropped phone call to a serious tragedy in the aviation, medical, military, nuclear or automotive areas," he said in a statement.
A separate survey carried out by iSuppli found that fake components were most widespread in electronic equipment used by aerospace firms and the military.
Mr King added that electronics firms were coming under more pressure to watch out for fakes as governments enact regulations that force them to police component suppliers.