Nook e-reader 'glows in the dark'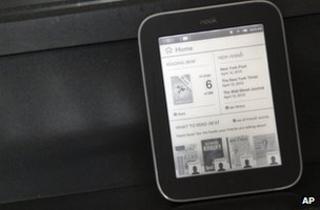 The first e-ink-based reader that can be read in the dark without the need for a separate light has been unveiled.
US retailer Barnes & Noble's latest Nook e-reader has a screen that glows.
Dubbed the "Simple Touch with Glowlight" it has an LED-based lighting system in its frame that users turn on when the ambient light becomes low.
The device was announced less than a week after a report that Amazon was working on a front-lit version of its Kindle e-reader.
The new Nook costs slightly more than the original version, bringing the price up to $139 (£87) from $99.
UK launch
E-readers are marketed as being easier to read in sunlight than tablet computers, but until now users have had to attach clip-on lights or expensive cases with built-in lights to use them in the dark.
Barnes & Noble markets the 6in device as being "amazing in bed and at the beach".
It is due to go on sale in the US in May. Although none of the company's devices is available in Europe there has been speculation that could change soon.
The firm is sponsoring the so-called App Zone, aimed at e-readers and apps for the Android mobile platform, at the forthcoming London Book Fair.
It also held a developers' conference in London last month, showcasing the Nook platform to Android developers.
However, when recently questioned by the BBC, Barnes & Noble said: "We have nothing to announce at this time."
The Simple Touch update comes six days after the Techcrunch website reported being shown a prototype Kindle with its own front-lit screen .
The story gave no indication of when the device would go on sale.