Oakley researches augmented reality glasses for athletes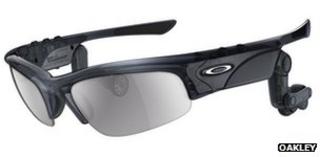 Augmented reality glasses targeted at athletes and other sportsmen and women are being developed by Oakley.
The business's chief executive told Bloomberg that the firm had been working on the project for 15 years and had filed about 600 related patents.
Colin Baden said that the aim was to create a self-contained unit that could also communicate with smartphones.
The announcement comes a fortnight after Google released a concept video of its own heads-up display project.
The search giant's co-founder, Sergey Brin, was later spotted sporting a prototype at a charity event in San Francisco, although he declined to let others try it out.
Oakley has previously marketed a range of glasses with built-in MP3 music players
It has also partnered with Motorola Mobility to offer glasses equipped with Bluetooth devices allowing the user to make hands-free telephone calls via a linked mobile phone.
Google is in the process of taking over the smartphone-maker.
Mr Baden signalled that the release of augmented reality glasses might still be some way off.
"As an organisation, we've been chasing this beast since 1997," he said.
"The technology barrier success is significant."
Army eyewear
He added that initial units were likely to prove expensive, and that the company - which is a division of Italy's Luxottica Group - might also develop a product for the US military.
That would potentially put it in competition with another firm, Innovega.
The BBC revealed last week that the Pentagon had signed an order for prototype double-vision contact lenses designed to work with a special set of glasses.
The iOptik set-up is designed to allow the user to focus on information projected onto the HUD's lenses as well as more distant objects at the same time.
It is claimed that the set-up would be less bulky than existing alternatives, giving equipped troops an advantage on the battlefield.
A spokeswoman for Oakley was unable to provide more detail about the company's efforts.