Twitter patent agreement gives control to inventors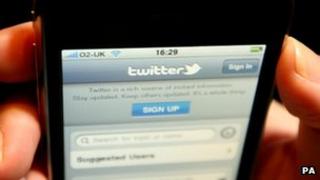 Twitter has announced plans to put its patents in the control of the engineers and designers behind the innovations.
It said the move would mean it could only launch offensive intellectual property lawsuits with their permission.
It added that the action would still apply to staff who left the company.
Twitter suggested that other companies might want to implement a similar policy, but one lawyer said shareholders would resist the move.
"Typically, engineers and designers sign an agreement with their company that irrevocably gives that company any patents filed related to the employee's work," Twitter's vice-president of engineering Adam Messinger wrote in a blog .
"The company then has control over the patents and can use them however they want, which may include selling them to others.
"With the IPA (Innovator's Patent Agreement) employees can be assured that their patents will only be used as a shield rather than as a weapon."
Legal clashes
The IPA states that Twitter reserves the right to use the patents, without permission, for "defensive purposes".
It adds the caveat that it can also make use of the properties if the target has been involved in an intellectual property lawsuit against the service, its users or affiliates over the previous decade.
The announcement comes in the midst of a legal battle between Facebook and Yahoo.
On 12 March Yahoo sued the social network claiming it had infringed 10 of its patents saying "Facebook's entire social network model" was based on its technologies.
Three weeks later Mark Zuckerberg's firm counter-sued claiming the web portal violated its patents covering photo tagging, advertising and online recommendation.
'Wailing alarm'
A subsequent report by the financial analysis firm M-Cam highlighted the scope for further litigation noting that more than 30,000 patents have been filed relating to the key aspects of social networking, e-commerce and data management.
"Over $83bn [£52bn] is being spent each year against patent trolls alone, and that number does not even count the amount spent when corporations battle each other," it said.
"At what point does the fact that 30,000 patents describing the same technology sound less like an abstract farce and more like a wailing alarm?"
However, at a time when Google, Microsoft and Intel - among others - are paying huge sums to buy others' intellectual property rights, one UK-based lawyer suggested that Twitter would find it hard to find support for its scheme amongst the biggest patent holders.
"People are going to have difficulty getting value out of a patent portfolio that they might want to transfer if there are restrictions about how those patents can be subsequently be used," said Andrew Alton, from Urquhart-Dykes & Lord.
"For example it would be hard for a big commercial company to operate if it were tied down by the personal feelings of an employee from the former patent holder."
Another patent lawyer, who asked not to be named as his company represents one of the major owners of social network patents, also expressed concern.
"It would drive a coach and horses through all norms of corporate decision making and responsibility, and could lead to decision paralysis if there are hold-out inventors," he said.
"Shareholders won't like it, and if these rights are contractually enforceable then it would significantly deter those wanting to buy or licence the underlying patents or business."