Yahoo to axe 'non-core' products in turnaround plan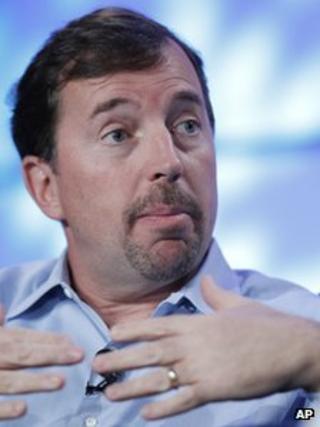 Yahoo's chief executive has confirmed plans to shut down dozens of products that are not seen as core to the firm.
Scott Thompson announced the move to analysts following the firm's latest financial report.
He said he had asked: "How would we build Yahoo from the ground up if we were building it from scratch today?"
As a result he said it would be "shutting down or transitioning roughly 50 properties that don't contribute meaningfully to engagement of revenue".
Mr Thompson did not identify which units would be abandoned, but noted that news, finance, sports, entertainment and mail were safe.
"Each of our products and services may individually generate more engagement than most start-ups or even mid-sized companies in certain markets, but that does not mean that we should continue to do everything we currently do," he was quoted as saying in a transcript of the conference call by Seeking Alpha .
Search stress
The chief executive - who joined the company only in January - also noted that its search alliance with Microsoft was "not yet delivering" what had been expected.
The two firms agreed to team up in 2009 . The idea was that Microsoft would provide Yahoo with the search results produced by its Bing service, which Yahoo would tailor to its audience. In addition Yahoo's salesforce would target "premium" advertisers on behalf of both firms.
Mr Thompson said the UK and France were currently being moved to Microsoft's search algorithm, and that other parts of the EU and Asia would follow.
However, he added that Yahoo was "working hard with Microsoft" to address the fact that the software firm's AdCenter technology was still not delivering the sort of revenue it had hoped for.
For the time being Yahoo is protected against the shortfall by a "revenue per search" guarantee signed by Microsoft that is due to expire in March.
Personalised news
Mr Thompson was also quizzed for more detail about his promise to make better use of the company's "vast data".
He explained that the firm would use cookies to personalise its news content.
"I only care about the Boston Red Sox," he said, using the US baseball team as an example.
"So when I visit Yahoo Sports today, the only thing I actually want to see is Bruins, Celtics and Red Sox. And that's uniquely relevant to me, personalised for me and we ought to be able to do much, much more of that than we've done to this point."
He added that the data would also be used to help advertisers understand how visitors used the site and to request "almost real-time" analytics data.
This is the latest in a series of turnaround plans promised for the web portal, but one company watcher was impressed by the comments.
"I'm a bit more hopeful," said Ian Maude from Enders Analysis.
"He's obviously no holds barred, very candid and has a good understanding of the strategic issues. The question now is whether he can deliver.
"The key will be getting the search and banner advert revenues higher - I'm not sure what the alternative to the Microsoft deal would be if they can't get that right."