Anonymous creates Pastebin rival to combat 'censorship'
By Leo Kelion
Technology reporter, BBC News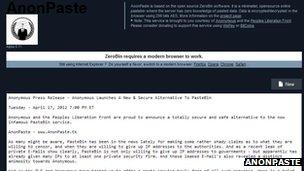 Hackers linking themselves to the Anonymous collective have created an alternative to Pastebin - the site they had traditionally used to reveal details of their attacks.
The group describes AnonPaste as "a totally secure and safe alternative".
There has been a backlash against Pastebin since its owner told the BBC he planned to hire more staff to police "sensitive posts".
AnonPaste has already been used to spread details of a planned attack.
Anonymous members often publicise their activities on Twitter, but the microblog's limit of 140 characters means they redirect users to much longer "pastes" elsewhere to share details of hijacked emails, passwords and other information.
Following an interview Pastebin's Jeroen Vader gave in April, some Anonymous users switched to rival - but less advanced - sites such as Pastebay. Now it appears they have created their own.
A press release posted online said : "Pastebin has been in the news lately for making some rather shady claims as to what they are willing to censor, and when they are willing to give up IP addresses to the authorities."
"As a recent leak of private emails show clearly, Pastebin is not only willing to give up IP addresses to governments - but apparently has already given many IPs to at least one private security firm. And these leaked emails also revealed a distinct animosity towards Anonymous."
The new site's owners - who identify themselves as both Anonymous and the People's Liberation Front - say the service will not record connection logs and will encrypt pastes to ensure there is no usable data for the authorities to seize.
They also promise "no moderation or censorship" saying it is up to pasters to assume any legal responsibility. They add: "We believe in the radical notion that information should be free".
Mr Vader told the BBC he had mixed feelings about the news.
"Having this new anonymous paste service online will most likely mean that less 'sensitive information' is posted on Pastebin.com, which we like," he said.
"Here at Pastebin.com we think freedom of speech is very important... but we think this new totally anonymous paste site will be used mainly by people who have something to hide, people who are posting things that really shouldn't be posted.
"We are afraid that this site will be bombarded with people's personal information, credit-card details and things such as child pornography."
AnonPaste is already being used to raise awareness about a campaign against the organisers of Formula One.
A paste says that Anonymous takes objection to a race being held in Bahrain where it says human rights abuses are occurring. It adds that there are plans to attack the organisation's communications infrastructure this weekend.
A spokesman for the motor sport's governing body, the FIA, told the BBC it was "aware of the rumours".
Related Internet Links
The BBC is not responsible for the content of external sites.