Sir Stuart Rose and the app designed to shake up retail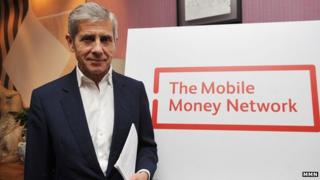 "Have you ever seen one of these?" says Sir Stuart Rose, jumping up from his seat.
"It's a fuel band. Right. It's the latest hot thing."
A press of a button and the dull-looking black bracelet on his wrist flashes into life displaying a bright, white numerical readout.
"It tells me what time it is, it tells me how many calories I've burned since I got up this morning - not enough. It tells me how many steps I've taken since I got out of bed - 5,037. It links up with my mobile phone and every day I can see how I've done against the targets I set."
Now there's an iPhone in his other hand with a dancing animated character and more statistics.
"Look - it says I've had the best day I've ever had, and I have a new record," he exclaims.
Tech pioneer
When Sir Stuart stepped down from Marks and Spencer last year, the easy choice would have been to settle back and retire on the £8.1m golden goodbye he received.
After a career that took in some of Britain's best known high street names - including Burton, Debenhams, Argos, Iceland and Dorothy Perkins - he had little left to prove.
But the youthful 63-year-old has instead combined two of his passions - technology and retail - to remain a player.
He has taken a stake in the Hut Group: the expanding operation that owns entertainment store Zavvi.com, gadget site Gifted.com and 13 other online shops.
In March 2011 he also became chairman of The Mobile Money Network. The start-up has since launched an app that lets users buy goods by holding their smartphones in front of an image of whatever it is they want to purchase, whether it is on a billboard sign, Facebook page or an in-store promotion.
So far, Carphone Warehouse - one of the group's investors - and the chocolatier Thorntons have trialled the product. But if it is to be a success it needs far greater take-up, and Sir Stuart is about to pitch it to many of his one-time rivals.
"We've got 150 people coming... movers and shakers from the retail industry," he says.
"I make no bones about it, we've got to get retailers to step up to the plate and recognise this is where things are going and tell them about £2.4bn of lost business because people say it's too much hassle to use their websites."
24-hour shopping
The Simply Tap app uses image recognition, a scanned QR matrix or typed-in code to allow users to order delivery of a product to their selected address without having to go on the web.
It is one of several new products launched by the likes of Barclaycard; Google; Paypal; and various smartphone makers using NFC (near field communication) technology - all hoping to make money by replacing cash and tills with our phones.
"I am astonished by when people want to buy things," says Sir Stuart.
"They want to buy things as they are walking down the street, they want to buy things as they are sitting on a bus.
"In the world I grew up in you planned to go out and buy things on a Saturday when you had the day off. Now it happens all the time. People buy things at one o'clock in the bloody morning."
But in an age of credit crises and austerity, when people are being urged to keep personal debt under control, is it really wise to launch new technology that makes it even easier to spend?
"We're not running a charity," Sir Stuart responds.
"Well, actually, we are at the minute because we're not making any money, but we're trying. It's not our job to tell people how to behave.
"Our job is to let people have what they want, where they want, how they want, and when they want it. It's up to them to be socially responsible."
The business is designed to make money by taking a "low, single-digit percentage" transaction fee on each purchase. It has already invested millions of pounds getting off the ground.
"I'll be incredibly candid with you. Start-ups are not for wimps," adds Sir Stuart.
"Start-ups are for believers. I believe this technology will be something that we will all use and want. What I can't tell you is our particular model will be the model [adopted]."
Video games and coffee
Sir Stuart is keen to stress that while he is happy to drum up business, he is the firm's non-executive chairman, meaning he is not involved on a day-to-day basis.
Instead, it seems, much of his time is taken up enjoying the latest gadgets.
"I couldn't do without my iPad," he says taking his tablet out of an expensive-looking case.
"I'll tell you what the best app I've got on here - it's fabulous - is the Guardian Eyewitness. Every day they come up with a fantastic story and photograph.
"I've got Bloomberg, clearly, I've got some music apps and I've got - er, I better hide that one. Nothing I shouldn't have, anyway."
This passion for technology continues at home.
"I wouldn't be without my espresso machine," he says.
"I can make a macchiato upwards and downwards. I can get the froth, no froth, top hot, top cold.
"And I have to say, I can have fun at the weekend with a bit of [Nintendo] Wii. I've got golf on it, I've got cricket on it, I've got tennis on it."
Personalised purchases
But Sir Stuart seems most interested in places where technology and commerce intersect.
He recalls that when he first started out at Marks and Spencer in 1971, stock management amounted to storing paperwork under the counter. Now, he notes, retail giants like Asos and Amazon do not have shop counters or any other high street presence.
But he strongly rejects the idea that bricks and mortar retailers are doomed any time over the next 50 years, just so long as they adapt.
"The most sexy thing I have ever seen is [a Nike store] where you can go in, start at the bottom of the shelf with a pair of white trainers and you can have them customised," he says.
"You can have your name put on the back, someone else's name put on, different colours and different panels and you pay about 30% extra."
In an age where online can almost always beat physical stores on price, success depends on offering a customised experience, he believes.
"We're going back to the craft mentality. We had the butcher, the baker, the candlestick-maker 50 years ago. Then we went to the ubiquitous supermarkets. Let's not name them, but Tesco has made itself a pretty bland place to go and is having a tough time.
"Consumers are turning away from that sort of blandness and sameness. What people want is uniqueness, but uniqueness doesn't have to cost extreme amounts of money."
He also highlights the importance of harnessing social media. But a quick check before the interview revealed he had an active presence on neither Twitter nor Facebook.
"I have never been a tweeter - I think people would start laughing at me," he admits.
"Maybe I should. I might have a little go at it. Most people I know with public profiles have people who do their tweeting for them.
"But you've got me thinking maybe I should. 'Did great interview with The Mobile Money Network this morning - this is the technology you should be in'. Is that 140 characters?"