Star Wars: The Old Republic's subscriber numbers fall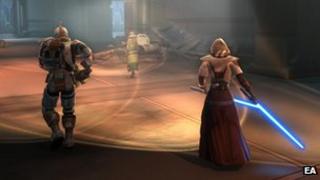 Online video game "Star Wars: The Old Republic" has seen about a 25% drop in subscribers, according to its publisher Electronic Arts (EA).
The firm revealed that the title had 1.3 million active subscribers at the end of April, compared to "a little over" 1.7 million in February.
The US-based company said that the figure was "consistent" with its original projections.
However, EA's shares fell as much as 10% in after hours trading.
The Star Wars MMORPG (massively multiplayer online role-playing game) is EA's biggest investment to date.
The drop-off in subscribers is despite EA raising the amount it is spending on marketing and the launch of the game in Australia, New Zealand, Hong Kong and Singapore at the start of March.
A fall in the number of subscribers had been expected but the size of the decline surprised some analysts.
Drop outs
EA's interim chief financial officer, Peter Moore told analysts that "a substantial portion of the decrease [was] due to casual and trial players cycling out of the subscriber base, driving up the overall percentage of paying subscribers," according to a transcript provided by financial news site Seeking Alpha .
The firm noted that many of what it calls casual customers had dropped out when it came time to renew their monthly subscription.
It added that it planned new content including territory expansions to help retain "a solid base" around its current subscription level.
Chief executive, John Riccitiello, added that the title was one of his company's top 10, but not top five, profitable titles.
"It's a business contributor, while important, is not as important as Medal of Honour or Battlefield or FIFA or Madden or The Sims or SimCity," he said, adding that he did not believe the Star Wars game warranted as much attention from investors as it was attracting.
Elder Scrolls
Competition in the MMORPG sector is likely to become tougher going forward.
Last week Bethesda, the maker of the bestselling fantasy title Skyrim, announced it planned to launch The Elder Scrolls Online for PC and Macintosh computers. It is expected to be released in 2013.
Before then Activision Blizzard is set to release the Mists of Pandaria expansion to World of Warcraft. The new content - including an Asian-inspired environment populated by panda bears skilled in martial arts - is currently being beta tested by selected users.
However, Michael French, editor-in-chief of the video games trade magazine MCV said the Star Wars title was likely to have a long future.
"It is fairly natural that subscriber numbers change when you start asking people to pay for their subscriptions," he told the BBC.
"EA knows how to push into digital spaces - it's a very powerful brand and they are a very powerful business, so a little user attrition in the first few months isn't too worrying."
"In EA's mind the fact there are other MMORPG's coming is only further evidence that they need to be in this space."
Takeovers
For the fourth quarter as a whole EA's net income totalled $400m (£247m), up from $151m the previous year. Sales rose 20% to $1.4bn.
The firm said that it was experiencing a trend in which the growth in digital sales more than compensated for a fall in packaged games sold via shops.
However, EA's chief executive signalled that he would be cautious about buying smaller social gaming rivals, taking an apparent dig at rival Zynga's takeover of Draw Something developer OMGPOP.
"We don't need to buy a brand just to get a temporary lead on top of the charts for whatever is hot this quarter," said John Riccitiello.
"That doesn't mean that we would never buy or never invest. We would."
"But right now, what I'm starting to see is valuation expectations that assume that these things are all hockey stick moving up into the right with no end in sight, and I think those are bad assumptions," he said.