Bioshock Infinite delayed until 2013 by Irrational Games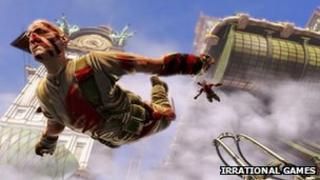 The long-awaited third instalment in the Bioshock series has been delayed until next year.
The video game's developer said that it needed more time and money.
That means it will avoid competing directly with big-budget first-person shooter rivals, including Halo 4 and Call of Duty: Black Ops 2.
Previous games in the series were well reviewed, although publisher Take-Two admitted that sales of the second title "slowed down sooner than we expected".
That may have contributed to a decision to place the forthcoming title - Bioshock Infinite - in a different setting.
Award-winning
The game is based in a floating air-city, rather than under water, and involves a civil war between an ultranationalist ruling class and a resistance group.
The release was highly anticipated after a preview version won Best of Show, and three other critics' awards at the E3 gaming conference last year.
The developer, Irrational Games, said it would skip this year's event to concentrate on bringing the product to market.
"Bioshock Infinite is a very big game, and we're doing things no-one has ever done in a first-person shooter," said game designer Ken Levine in a message posted to the game's website .
"We had a similar experience with the original Bioshock which was delayed several months.
"Irrational Games is one of those rare developers lucky enough to ask the people who sign the cheques: 'Hey, can we have a few more."
Missing key slot
Mr Levine added that the title, which was originally due to go on sale in October, would now be launched on 26 February.
One industry watcher said that developers who seek to push gameplay boundaries often run into this sort of problem.
"From Take Two's point of view this is one of their major properties so they wanted it to hit market at the most opportune time, and from the point of view of big-budget titles that's often the fourth-quarter slot when footfall is heavy," said Piers Harding-Rolls, head of games at IHS Screen Digest.
"However, delays like this aren't that unusual - we've seen that some of the most successful titles have been released months and in some cases even years after the original target date.
"Developers can go on forever tweaking content, but it sounds like in this case there was still significant work to do and they felt it wasn't worth shipping it in an unready state."