Mobile firms attack 'early 4G' on Everything Everywhere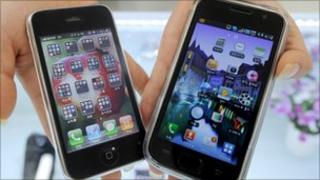 Three mobile operators have told the UK's telecoms regulator that rival Everything Everywhere (EE) should be blocked from rolling out 4G mobile services before them.
EE had asked Ofcom for permission to reuse some of its existing spectrum for next-generation data services.
During a consultation period, which ended this week, all three rivals stated their objections.
Ofcom is due to make its decision in June.
Fair race?
In their submissions to the regulator, the three - O2, Vodafone and Three - expressed their opposition to the plan.
"We are concerned that Ofcom's proposal to allow one operator to launch 4G early on its existing spectrum is contradictory to its objective of delivering a competitive market environment with four competing players," an O2 spokesman told the BBC.
Vodafone said it represented "an unfair race".
"We can't understand why Ofcom would ignore the overwhelming evidence that giving Everything Everywhere a head start could seriously undermine competition in the UK market.
"Put simply, why is it that the French and German runners should be allowed to start the 4G race whilst the British runner is still chained to the starting blocks? Is that what we can expect at the forthcoming Olympics?"
Meanwhile Three, still angry over Ofcom's decision to allow O2 to reuse 2G spectrum for 3G services, said that "any further liberalisation could make that distortion worse unless competition issues are addressed".
EE remains hopeful that Ofcom will find in its favour and pointed out that both Vodafone and O2 had enough 4G-compatible spectrum to offer "small-scale rollouts".
"If given permission to use our current spectrum to roll out 4G, Everything Everywhere is ready and able to start bringing the considerable social and economic benefits of this technology to Britain this year," a spokeswoman told the BBC.
"If in launching 4G we encourage others to make the requisite investments and innovations, then that can only be a good thing for the UK," she added.
Ring-fenced spectrum
EE currently has the most spectrum of all the operators, and one of the conditions of the EE merger - between Orange and T-mobile in the UK - is that it must sell off 25% of it.
Rivals must now decide if they want to bid for this.
Three faces a particularly tricky decision - if it does buy spectrum from EE, it would no longer qualify to have the low-frequency spectrum ring-fenced for it in the auction.
Ofcom decided to ring-fence spectrum for Three to create a more level playing field for operators and to make sure the mobile market remained competitive.
Both O2 and Vodafone have threatened legal action if the auction goes ahead in its present form.
Matthew Howett of telecoms analysts Ovum thinks that the infighting among operators is distracting from the real issue - that consumer demand for faster mobile services is mounting almost daily.
"The importance of bringing 4G to Britain must not be underestimated," he said.
"The UK has committed to having the best superfast broadband in Europe by 2015, and mobile will have to play an important role in achieving that aim."