Who's number one in streaming?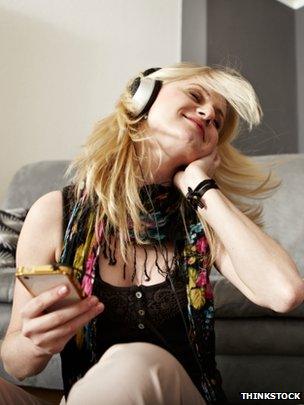 For more than 60 years, the release of the charts on a Sunday evening has been both a weekly ritual for music fans and a way of taking the temperature of a whole industry. In 2004, a download chart was introduced as more and more customers started to access their music online, and now next Monday there will be another innovation - the first official streaming chart.
It will look at what people are listening to via new streaming services, both subscription and advertising supported, and will use data from the likes of Spotify, Deezer, We7 and Napster. The initiative from the Official Charts Company is obviously recognition - perhaps rather belated - that streaming, rather than owning music, has become a habit for millions of the music industry's customers.
To mark this new departure, a chart of the most streamed artists of 2012 has been released. At number one is Ed Sheeran, followed by Lana Del Rey and then David Guetta. Compare and contrast with the singles and album charts - which now combine both downloads and CD sales - and you'll see some intriguing differences.
Ed Sheeran, for instance is much lower in the download charts, while the top selling album artist Adele is only number 13 in the streaming chart. Now there's one obvious reason why the most successful recording artist of recent years isn't big on the likes of Spotify - her management have opted not to licence the 21 album for streaming.
I asked a much younger colleague with more experience of the current music scene to compare the charts. "Overall," she told me, "the streaming chart is more alternative, a slightly older demographic and features more music from artists who've not released albums for a while."
But what I really want to know is some information that you can't get from the streaming chart. Such as how big the streaming business is compared to paid downloads, whether it is an industry dominated by Spotify, in the same way that Amazon dominates ebooks, and why many artists are still so unhappy with the rewards it offers.
Streaming is obviously growing fast. According to the charts company, there were 2.6 billion audio streams in the UK last year, compared with 177 million single track downloads and 26 million album downloads. Obviously the two don't compare when it comes to revenue, but we'll come to that in a minute.
Who's winning in this new industry? Well Spotify is certainly the best known brand in Europe, and perhaps now in the US. But with only 3 million paying subscribers there is obviously a huge untapped market to aim at, and the battle is far from over. France's Deezer, with 1.5 million subscribers, is growing rapidly, and the word in the industry is that it is the best placed to challenge Spotify.
For artists, though, it is still less clear what streaming has to offer. I've heard suggestions that music insiders have a ready reckoner which values every paid download track as worth 350 streams. And we've heard from plenty of disgruntled artists complaining of getting pennies for hundreds of thousand streams and from others, like Adele, who've decided to stay out of streaming for fear of cannibalising CD and download sales.
I spoke to Will Hope from Spotify, and asked him whether there were any signs that relations with artists were improving. He pointed to the fact that music from Bob Dylan and the Red Hot Chili Peppers - artists who had kept away from streaming - was now available on his service. And he insisted that the rewards for musicians were growing rapidly. "We're only just beginning, we're one of the most significant revenue providers for artists."
The arrival of a streaming chart means that a new way of getting access to music has come of age. But for now - and perhaps for years to come - most artists will dream of getting a number one album or single, not a number one stream.