World of Warcraft subscriptions steady, says Activision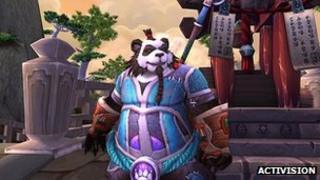 Activision Blizzard says the number of subscribers to its World of Warcraft online video game has stabilised.
The publisher said the seven-year-old title had 10.2 million members at the end of March - the same as at the turn of the year.
That supported its claim to be the most popular subscription-based title of its kind.
World of Warcraft (WoW) had lost nearly 1.8 million players over the previous 12 months.
The announcements were made following the release of the publisher's first-quarter earnings.
Panda pets
Its net income for the three months was $384m (£234m), a 24% drop on the previous year.
It linked the fall to the decline in the number of people playing WoW - its most profitable business - as well as the fact that its most recent Call of Duty first-person shooter game was experiencing lower sales than its predecessor.
However, it noted that revenue of $1.2bn for the period was better than expected and raised its forecasts due to what it described as a "highly innovative product line".
This includes the forthcoming WoW Mists of Pandaria expansion pack, which introduces a new continent populated by martial-arts-skilled pandas and their pets.
"We expect to see increased engagement with the launch," said Michael Morhaime, chief executive of the firm's Blizzard division.
The release should help WoW compete with its newer big-budget rival, Star Wars: The Old Republic, which lost about a quarter of its subscribers between February and April.
Both titles face challenges from MMORPGs (massively multiplayer online role-playing games) Guild Wars 2 and Elder Scrolls Online.
Cash for equipment
The company also highlighted next week's launch of Diablo 3.
Activision said that the horror-themed role-playing game had already set a new pre-order record for its Blizzard unit.
The sequel features an auction house in which users can trade objects with other players using real-world currency. Activision can take a cut of each sale, potentially creating a significant new revenue stream.
The company also said it had high hopes for November's release of Call of Duty: Black Ops 2, as well as a Call of Duty "micro-transaction game for China", for which details remain scant.
It added that it thought a "new universe" from developer Bungie - creator of the Halo series - could also become a "potential mega-franchise", but did not give any further details.