Chinese Flipboard downloads to surpass those in US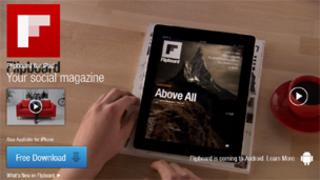 Flipboard - a popular news magazine for mobile devices - expects the number of downloads of its app in China to soon surpass those in the United States.
The firm started its Chinese service only last December, but chief executive Mick McCue said there were now as many downloads there as in the US.
He made the comments at the Global Mobile Internet Conference in Beijing on Wednesday.
Flipboard has had a rough ride trying to break into China's markets.
The country has 500 million internet users - more than any other - and is also the world's largest smartphone market.
But just like a host of other Western internet companies, Flipboard faced government censorship there, as well as stiff competition from domestic players, adept at creating clones of existing web firms.
On 15 May 2011, Flipboard was blocked by the country's internet censorship system known as The Great Firewall of China .
To overcome the obstacle and launch its Chinese service, the US firm decided to join Chinese social networking websites Sina and Renren in a partnership.
Mr McCue said that Flipboard aimed to achieve five million downloads in China by the end of the year.
The Flipboard app launched in 2010 and currently has eight million users.
Evernote's Chinese launch
Flipboard is expected to launch on the Android operating system, as well, in the next two or three months, according to Mr McCue.
"[China] has a huge Android base, so it's absolutely obvious for us to accelerate our Android plans," he said.
The Chinese mobile market is currently dominated by the Google-owned platform, and will soon be "the largest market in the world for downloads from mobile devices", added Mr McCue.
Flipboard is just one of the multitude of Western web firms trying to tap into China's vast population of internet users.
Evernote, the company that allows users to take and share digital notes, has just launched its Chinese service Yinxiang Biji, which means "Impression Notes".
The firm already has a Chinese-language edition of the services, which helped China to become Evernote's third-largest market, after the US and Japan.
With the new platform, Chinese users will be able to choose whether to keep their data on the US platform or to transfer it to the new one.
Earlier, Evernote's chief executive had expressed his concern about the Chinese authorities potentially trying to regulate the firm's local data centre in future.
But analysts say that since Evernote's services are not primarily aimed at social networking but are rather used to create personal to-do lists, censorship should not be a big issue.
"The Chinese government does not operate a real thought police; they don't care what you think, or what you save on a server if it is accessible only to you," Jeremy Goldkorn, of Danwei.com, one of the most popular English-language blogs in China, told the BBC in an earlier interview.
"So as long as Evernote focuses on helping people to remember stuff and save stuff in the cloud for personal use, censorship and self-censorship will not be an issue."