Change.org petition site targets UK campaigners
By Leo Kelion
Technology reporter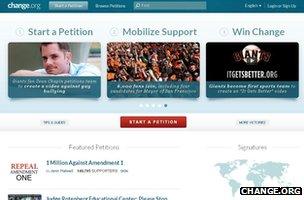 The popular US-based campaign site Change.org is opening a UK branch as part of a global roll-out.
The company offers individuals and organisations the chance to publicise petitions and sign up more supporters.
It says it already has 14 million users, 500,000 of them in the UK.
It says the move will allow it to offer a localised home page and employ a four-person London-based team, headed by a former Oxfam employee, to flag up "hot campaigns" to the media.
Longer term, the service promises to personalise its pages to identify campaigns in the areas visitors live in, and provide ways to contact their local MPs and councillors.
The site's founder says its success to date is based on letting petition organisers stay in touch with supporters after they have added their name to a campaign list.
"Any message you submit gets sent over email and Twitter to the target audience," Change.org's founder Ben Rattray told the BBC.
"Those people are then mobilisable by the person who started the campaign for follow-on actions. Oftentimes the signatures on the petitions aren't enough to win, but the mobilisation of those people who signed subsequently are the reasons they win."
Change.org is not the only site trying to empower the public with online innovation. In the US it competes with Avaaz.org, Sumofus and Care2, and is likely to cover topics already voted on by members of the UK-based campaign community 38 Degrees.
Change.org's site highlights past "victories" including Apple's promise to do more to protect China-based workers employed by its suppliers after more than 250,000 people signed an online letter calling for change, and a nanny's effort to force Bank of America to drop a new banking fee.
But perhaps the site's highest profile case to date was the prosecution of a Neighbourhood Watch volunteer charged with the murder of Trayvon Martin, an unarmed black 17-year-old, in Florida in February.
The State Attorney and local police originally said they had no evidence to disprove the killer's claim he had acted in self defence.
Close to 2.3 million people subsequently signed a petition on Change.org's site posted by Mr Martin's parents. This helped spark protest marches in several cities and extensive media coverage.
President Obama went on to comment: "It is absolutely imperative that we investigate every aspect of this... If I had a son, he would look like Trayvon."
In April, George Zimmerman, was charged with second-degree murder and now awaits trial.
At a press conference following the news, civil rights leader Rev Al Sharpton credited the public campaign with having convinced Florida's governor and prosecutors to review the case.
Not all efforts on the site are successful, however. A petition late last year to have Top Gear's Jeremy Clarkson sacked by the BBC failed to raise a target of 1,000 supporters.
The Change.org site highlights 10 campaigns at a time on its home page as well as allowing users to search by theme and study tips to "change your neighbourhood or your world".
It makes money by charging organisations such as Oxfam and The Humane Society a fee to target their campaigns at what it believes will be sympathetic users who are not already on their list of supporters.
Such charities are then charged on a cost-per-action model based on how many people take part in their campaigns.
Mr Rattray says he expects Change.org to raise about $15m (£9.3m) in revenues this year. He says he will spend the cash expanding the business.
Although some users may feel squeamish about their support being used to raise money, he says everyone involved benefits.
"The business model we are disrupting is that non-profits spend extraordinary amounts of money on face-to-face and direct mail fundraising," said Mr Rattray.
"It's much more efficient to build membership and donors online.
"The campaigns are marked as being 'sponsored' and it's not dramatically different than what you get if you search Google for charities and see sponsored links."
Although it may end up competing with campaign site 38 Degrees for attention, the British organisation welcomed Change.org entry into the UK.
"The Change.org petition site has made a valuable contribution to helping more people get their voices heard online in the USA, and it would be great news if they managed to do that here too," said David Babb, 38 Degree's executive director.
Beyond the UK Mr Rattray aims to have local offices in between 20 and 25 countries by the end of the year including Germany, Thailand, India, Egypt and Argentina.
Longer term he also has his eyes on China. Although there are plans to expand into Taiwan and Hong Kong, the site is blocked at present from the mainland and its 500 million internet users.
"I think we could have a huge influence there in ways that the central government would like - there's a lot of corruption in local politics and it's hard for them to root out - citizen mobilisation would be effective" said Mr Rattray.
"The challenge is that we can't control campaigns and inevitably these sorts of things involved are very sensitive - we would have to find a way to accommodate that.
"Our goal is not to be indelibly antagonistic to governments or companies, it's to broker a relationship."
Related Internet Links
The BBC is not responsible for the content of external sites.