Twitter embraces UK's policymakers after eventful year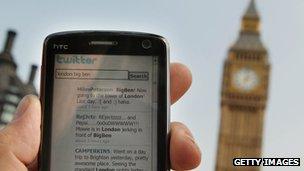 Twitter has told the BBC it now wants to work closer with government and policymakers in the UK.
The site has revealed that there are over 10 million active tweeters across the nation.
The site's UK general manager Tony Wang said it is a priority to "protect and defend" the voice of those users.
It has been a year since Twitter opened its UK operations. It has faced tough questions over privacy and regulation.
The network said it now has over 140 million active users worldwide. In the UK, 80% of active users access the site through their mobile, compared to 55% globally.
Now, Mr Wang said the company is looking to work closer in the public sector. As part of a massive worldwide recruiting push, the company is hiring a public policy manager.
Mr Wang said the new recruit would work with "the government, various ministries, members of parliament as well as law enforcement".
"There are a number of different needs that they have - and there's a lot of very unique ways that they're using Twitter," he added.
Since launching its UK presence on 1 June 2011, Twitter has head the headlines during high-profile events such as the London riots and the outing of footballer Ryan Giggs' involvement in a privacy injunction.
Despite his identity being protected from being publicised in the press, Mr Giggs was named in Parliament by Lib Dem MP John Hemming - after already being called by more than 75,000 individuals on Twitter.
It prompted a call from the prime minister for a new body to look at privacy orders and their effectiveness.
Twitter was also cited by some as being a method of communication for those involved in the English riots - however, one subsequent study suggested the network was in fact a "force for good" during the trouble.
Mr Wang told the BBC that both incidents stressed the need for Twitter to not take a one-size-fits-all approach to its international operations.
"It emphasised the importance of being a global company," he said.
Mr Wang would not be drawn on Twitter's view on the controversial government plans to extend surveillance measures online.
Mr Wang said Twitter's views on the plans, which are still in the early stages, would be "conjecture".
"If we're building our business and aligning ourself to our core values, I think these things will play themselves out," he said.
"One of the things we've worked very hard on over the last years is making sure we have the operations as well as the resources to continue to build a business that's not just in the US but global.
"That basically means engineers working on the product and getting people on the ground as well."
Twitter's first foray into the UK was largely focused on sales and public relations. It based its European communications team in London.
Alberto Nardelli is co-founder and chief executive of Tweetminster, an independent site that tracks politicians use of the network.
He said Twitter has in the past year become a fundamental part of political discourse in the UK, with over 340 MPs using the service, up from around 100 at the time of the last election.
He told the BBC that being closer to policymakers will be of benefit to Twitter, particularly when it comes to dealing with issues like injunctions and other privacy matters.
"The principles behind an injunction on Twitter is a harder thing for policy makers and for people who write laws because they tend to be very slow processes, whereas things on Twitter happen and change very quickly.
"The law and policy is always playing catch-up."
Related Internet Links
The BBC is not responsible for the content of external sites.