Apple drops '4G' from iPad adverts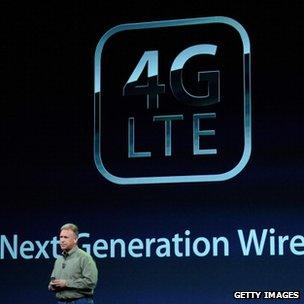 Apple has stopped using the phrase 4G in adverts for its latest iPad.
The description proved controversial because 4G is not widely available in the UK and the iPad will not work with it when it is.
The UK's advertising watchdog and others around the world investigated Apple over use of the 4G phrase.
Apple said the confusion arose because of the ways operators refer to different high-speed mobile technologies.
When the newest version of the iPad was launched in March, adverts for the device claimed it would work with 4G, meaning fourth generation, mobile technology. The 4G in question was a technology known as Long Term Evolution (LTE) that was starting to appear in the US.
However, when LTE arrives in Britain, the rest of Europe and many other nations, it will use different frequencies from those in the US, meaning the iPad will not be able to use 4G everywhere.
The disparity led to many complaints. In the UK, the Advertising Standards Authority (ASA) investigated and won assurances from Apple that its advertising would change.
A spokesman for the ASA said it had started a second investigation after consumers told it that the 4G phrase was still being used to describe the iPad's capabilities.
The ASA had been "working closely" with Apple to amend the way the iPad is advertised, said the spokesman, adding that the consumer electronics firm had been very co-operative during the investigation.
"We will be checking the amendments to ensure they adhere to the Advertising Code," he said.
Apple said the confusion had arisen because of the different high-speed mobile technologies dubbed 4G by operators and carriers.
Apple would change its terminology to remove this confusion, it said.
"Carriers do not all refer to their high speed networks with the same terminology," said the firm in a statement, "therefore we've decided to use 'wi-fi + cellular' as a simple term which describes all the high speed networks supported by the new iPad."
"The advanced wireless features of the new iPad have not changed," it added.
Related Internet Links
The BBC is not responsible for the content of external sites.