Olympics fans can check-in with Foursquare tie-up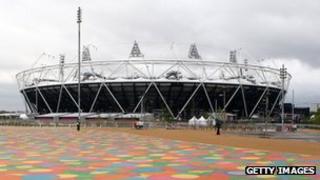 Fans of the Olympic Games are now able to "check in" at significant historical locations across the world.
The tie-up between the International Olympics Committee (IOC) and location-based social network Foursquare launched on Tuesday.
Users can log visits to stadiums, training venues and other areas - such as places which have "inspired" athletes.
Olympic bosses have said London 2012 will be the first "social media Games".
They hope popular networks like Twitter and Facebook - which have grown rapidly since the Beijing Games four years ago - will give the public new insights into the event thanks to messages posted by participating athletes and others.
An Olympics section of Foursquare's website details historic locations including Rome's Stadio Olimpico, where Ethiopian runner Abebe Bikila became the first African to win an Olympic gold medal in 1960.
It also features future venues such as Copacabana Beach - the venue for beach volleyball at the Rio de Janeiro games in 2016.
The IOC's head of social media Alex Huot said: "Our integration with Foursquare and the ability to leave location-based tips from the athletes is one more way to serve highly engaged fans of the Olympic Games and to integrate social media directly into the Olympic fan experience."
Athlete interactions
The London Games have been billed as the first Olympics to fully make use of social media platforms.
It is expected that athletes will readily interact with fans on networks like Twitter and Facebook.
However, in January strict guidelines were handed out to those volunteering to work at the Olympics.
They stated that public statements about the Games should not be posted on social networks without prior approval of the London event organiser's communications team.
Games organisers also gave rules to athletes. A document from the IOC told competitors that "any posting, blog or tweet must be in a first-person, diary-type format only".
Foursquare, which launched in 2009 and has over 20 million users, recently revealed it was entering the lucrative coupon market - offering special deals at businesses near to a user's location.
It faces competition from Facebook's Places feature, which offers similar abilities to share your location immediately with friends. Facebook recently bought out Gowalla, a former competitor to Foursquare.
In its most recent update to the Android platform, Google also introduced discount coupons within its Maps app.