US firm creates text-powered 'robotic barista' coffee maker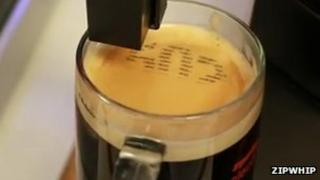 A coffee machine that can be controlled by sending text messages has been developed by a company in the US.
Seattle-based Zipwhip's Textspresso can send and receive, allowing coffee drinkers to text their order directly to the machine to pick up later.
Using edible ink, the machine can also add personalised messages onto the coffee's froth.
There are no plans to mass-produce the machine, but instructions and source code are being made available.
"You heard right," the company wrote in its blog .
"We've got a robotic barista in the house."
Zipwhip, a cloud text messaging service, said they had produced the machine as way of highlighting the abilities of its wider business.
"We've had a lot of people each from all over the world wanting to distribute this thing," the company's chief executive John Lauer told the BBC.
"We have been prepping the open source plans - and we are going to launch those. People could do modifications, that would be really thrilling for us."
'Head-scratching'
The machine itself is a standard coffee maker manufactured by Jura.
In lieu of a human operator, the machine is activated using a specially programmed Arduino microcontroller.
Arduino is an open-source platform used for prototyping interactive electronics.
Zipwhip were able to write computer code to interpret the instructions sent in via text message. The system made use of Zipwhip's own Android mobile app.
"The build was completed with lots of head-scratching and weekend work," the company said.
It has posted the code used to control the Arduino - written in the Java programming language - on its blog.
The machine has proved popular with both technology and coffee lovers. Local blog SeattleCoffeeGear called it the "hardest working robot in the business".
Mr Lauer told the BBC he was delighted with the response, but was not looking to take the idea much further.
"Hey, if Starbucks want to come and buy the company for that machine... well, it just wouldn't make sense!
"We'll let someone else do it. If someone takes the open-source plan and starts a business around making these, it just means more users of our software."