Dell looks to future tablets as consumer sales slump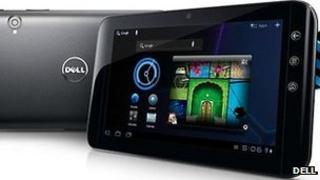 Dell is pinning its hopes on new touchscreen products pegged to Windows 8's launch to boost the fortunes of its consumer products division.
Sales of the US firm's notebook computers and other mobile devices were down by 10% over the three months to 4 May, compared with the same period the previous year.
It blamed competition from cheap entry-level products in emerging markets, a category it does not participate in.
Its shares fell 13% in extended trade.
Net income for the first quarter was $635m (£404m), a fall of 33%.
Revenue dropped 4% to $14.4bn, with its consumer unit reporting a steeper 12% decline.
The company predicted only a small increase in sales over the current period.
Although it expected to benefit from falling hard disk prices as suppliers recovered from last year's Thai floods, it warned that the savings would be offset by higher memory and display costs.
Touchscreens
However, the firm's founder and chief executive, Michael Dell, told analysts he expected a pick-up in demand when Microsoft released its new system software later in the year.
The upgrade features a new Metro user interface - designed for touch gesture controls - which Mr Dell said should prompt users to change their computer.
"Unlike other Windows transitions, this is a transition where you generally are going to need a new PC, whether it's a tablet or ultrabook with touch or a notebook with touch or a PC with touch or some derivative hybrid on all the above type of products," Mr Dell was quoted as saying in a conference call transcript provided by financial news site Seeking Alpha .
"The product refresh cycle associated with this release of Windows is likely to be very different from other releases, but it's hard to know exactly what that looks like. We're preparing a full complement of products, and we'll be ready with those."
Mr Dell added that the new touchscreen products would cost more to produce than their non-touch equivalents, suggesting they should fall within the price bracket Dell targets, rather than the super-low end of the market that it had opted out of.
However, he added that it would take longer for the new system to drive business sales.
"Corporations are still adopting Windows 7, so we don't think there'll be a massive adoption of Windows 8 by corporations early on," he said.
Competition
Dell has already tried to crack the mobile tablet market with its Latitude and Inspiron tablets that run on existing versions of Windows and its Streak tablets that run on Google's Android.
However, the market has been dominated by Apple's iPad and Amazon's Kindle Fire.
"We see Windows 8 as opportunity for all the PC manufacturers to reclaim the huge ground that they have lost to Apple and some of the other Android tablet makers," Chris Green, technology analyst at Davies Murphy Group Europe, told the BBC.
"You can't underestimate how much the sector has hit PC sales. The challenge for Dell is that it will be competing against Acer, Lenovo and others - but the sheer size of the company should act as an advantage."