Google rejects automatic pornography block rules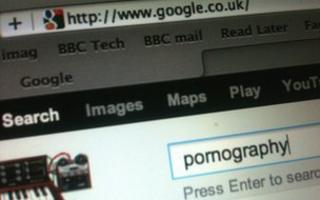 Proposals to force users to opt-in to access adult content would be "a mistake", Google has said.
Speaking during a debate in Hertfordshire, the company warned against allowing private companies to manage lists of inappropriate websites.
The government is currently consulting with ISPs to determine if such filters should be on by default.
Some ISPs, such as TalkTalk, have already provided an option to filter adult content at a network level.
If the government decides to introduce the blocks, it would mean web users would have to inform their ISPs if they want to view adult content.
Simple solutions
Sarah Hunter, Google's head of public policy, said the search giant was strongly in favour of education over technical measures.
"We believe that children shouldn't be seeing pornography online. We disagree on the mechanisms. It's not that easy," she said.
"There is a problem about the extent to which we deskill parents by giving them simple solutions.
"We should be making more effort than we've done in the past to make sure parents really do know the risks children face online."
ISPs have been criticised for not doing more to stop children from accessing pornography through the internet.
TalkTalk recently introduced an option for parents to turn on an adult content filter at a network level.
Rather than individual filters on devices - such as a family computer - network level filtering stops certain content from reaching the home.
Legal content?
"It's a great way of managing what children can see. We don't see that as censorship, it's about choice," said Andrew Heaney, TalkTalk's executive director of strategy and regulation.
However, he warned against filters being on by default, describing it as a "slippery slope".
"I think the government should be encouraging ISPs to offer [blocking]," he said.
"Certainly do not force them to turn it to default on. We step over this Rubicon into a dangerous world."
TalkTalk's filtering system is managed by security firm Symantec. It administers a list of blocked sites.
Kirsty Hughes, chief executive of Index on Censorship, warned against the "privatisation" of freedom of expression.
"We're talking about blocking legal content. Child porn is not the same as blocking legal adult content that is available in our society," she said.
"Who decides what is blocked? Who puts together these lists? This is a form of censorship.
"We're talking about putting legal communication, information, either out of bounds or something you have to turn on to be part of that free world."
Difficult territory
Many mobile networks already have an opt-in policy to adult content which requires users to prove their age to the company before adult content - not just pornography - can be accessed.
A recent study commissioned by the Open Rights Group revealed that many sites - 60 were named in the study - were being wrongly blocked. These included personal blogs, community websites and political commentary.
Google's Ms Hunter acknowledged the issues behind third parties - which are unregulated - managing what reaches internet users in their homes.
"When you have companies making decisions for what is or isn't appropriate for children it's difficult," she said.
"If we pretend all families are the same, we get into very difficult territory."