Has Google's boss harmed computer teaching?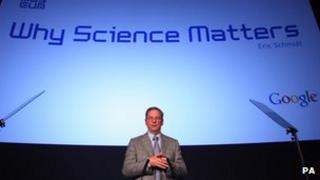 "The last time I spoke in the UK," said Google's chairman Eric Schmidt, "it went better than I ever imagined." Mr Schmidt was referring to his speech at Edinburgh's Television Festival last year in which he called - among other things - for a revolution in the way computer science is taught in schools.
And he's right - his few sentences seemed to have an extraordinary effect. The computer and games industries renewed their calls for ICT teaching in schools to be revamped, the movement to promote the teaching of coding took heart, and eventually the Education Secretary Michael Gove, quoting the Google boss's remarks, announced that he was scrapping the ICT curriculum in English schools.
Last night, in a speech at the Science Museum, Eric Schmidt returned to this theme. He told an audience which contained many of those battling to change computing education that it still needed "rebooting". Computing represented less than half of one per cent of A-Levels taken in the UK, just 4,000 students a year.
He told us that only 2% of Google's engineers said they had not been exposed to computer science at school, and while the kind of stuff taught in ICT lessons - spreadsheets, online safety - still had a role, it was vital for our country's economic future that we taught computing as a proper academic discipline.
The speech, entitled Why Science Matters, was also a battle cry for scientific values to be more widely understood and honoured in society, and it was no surprise that it was very warmly received by last night's audience. But is there a danger that the revolution unleashed by Mr Schmidt is actually causing damage to the cause of computing education?
Earlier yesterday I was at a conference on e-learning, where teachers came to share ideas about transforming education with the use of technology. There were some inspiring case studies, with children from one school helping to demonstrate the use of tablet computers in the classroom.
But afterwards one teacher approached me with a disturbing story. He was a head of ICT and said after Michael Gove's decision to scrap the curriculum, he and his colleagues had been summoned to a meeting with the school's leadership team. They were told that they would have to think about finding new roles or taking redundancy. And he said the number of students taking any kind of computing qualification at the school was now dropping sharply.
Another teacher defended the much-derided ICT: "Not everybody is going to need to learn to code, but everyone does need office skills."
Even in the community of teachers committed to change in the way computing is taught, I'm sensing a rising level of anxiety. Their fear is that schools are simply going to use the excuse to move resources to other subjects, and that the training needed to provide a new generation of computing teachers will never be forthcoming.
Eric Schmidt seemed to recognise that danger last night, unveiling a plan to invest in computer science teachers via the Teach First charity, and provide them with equipment such as the Raspberry Pi or Arduino kits.
But funding 100 teachers is not going to make a huge difference. What the teaching community fears - pardon my tortuous metaphor - is that the computing science baby risks being thrown out with the ICT bathwater. They will hope that the government pays as much attention to the Google boss this time as it did before. He says pulling the plug from the wall was a good first step - but powering up again is even more important.