Mobile fingerprint scanners to be adopted by Met Police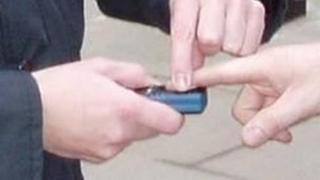 Scotland Yard is to equip its officers with handheld fingerprint devices allowing them to identify suspects in seconds.
Britain's largest police force has distributed 350 mobile phone-like devices to its officers across London.
The technology can also be used to quickly identify unconscious or fatal victims at accident scenes.
The Metropolitan Police is the 25th force in the UK to have adopted the devices.
"Evidence has shown that a full identification arrest can tie-up both the subject and the police officer for several hours," said the Metropolitan Police Service's assistant commissioner Mark Rowley.
"Even a traditional identity check conducted on the street can take an extended period of time to complete.
"It is effective particularly in revealing serious and violent offenders who will do everything they can to prevent the police from knowing their true identities. This technology means there is increased officer time spent on patrol, and as a result, helps to make communities safer."
Not retained
The system will be provided by biometric data specialists 3M Cogent.
It was trialled by the National Policing Improvement Agency as part of their Information Systems Improvement Strategy scheme, designed to lower costs.
A suspect's fingerprint can be taken on the device and almost instantly checked against the police database.
If a match is discovered, further relevant investigations can be made by an officer at the station.
An NPIA spokesman said data from the scan is only used to check a match and is not retained.
The NPIA said using the technology could save an average of 60 minutes per case as it eliminated the need to bring suspects back to a police station for identification.
"Identification is crucial to police investigations and giving officers the ability to do this on-the-spot within minutes is giving them more time to spend working in their communities, helping to fight crime, bringing more offenders to justice and better protecting the public," said Tom McArthur, the NPIA's director of operations.