Foursquare and Amex join forces in UK to offer discounts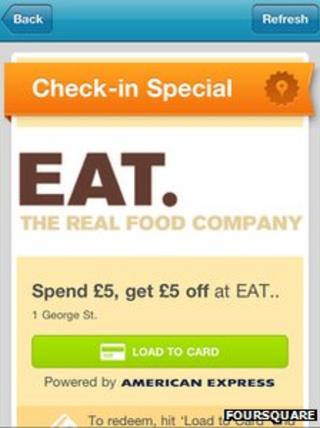 Foursquare has teamed up with American Express to launch a range of voucher-free offers in the UK.
The partnership follows a similar tie-up in the US launched last June.
Participating outlets are identified through the social network, and then users trigger savings by handing their Amex credit card to the cashier.
The effort comes at a time when other firms are urging shoppers to abandon cash and credit cards for mobile device-based payments.
However, this scheme relies on the participants using their physical credit card to qualify for the savings to be credited to their account within five working days.
Competition
Linking promotions to location-based services is becoming an increasingly common business model.
Yelp offers business owners the ability to add Check-in offers to their venues, Facebook promotes Places Deals while Android smartphone users in the US have begun receiving Google Offers on their handsets' maps since the start of the month.
Other apps such as Moneysupermarket, Vouchercloud and Myvouchercodes identify close-by special offers based on GPS data gathered from a user's handset.
But Foursquare's chief operating officer said he felt there was still a gap in the market for the new tie-up.
"Most of our competition has launched apps that are single functionality - apps that are purely about discounts, or maps or recommendations," Evan Cohen told the BBC.
"At Foursquare what we are trying to do is build a multi-faceted experience so that a user, who might be opening an app to see where their friends are or a recommendation of where to go next, might stumble upon a deal."
'Rich data'
American Express says it is uniquely positioned to offer the service thanks to its "closed-loop" business model in which it acts as card issuer, merchant acquirer and payment processing operator.
The firm's vice president of international social media strategy, Stacy Gratz, said this had helped attract outlets such as Tesco, House of Fraser, Primark and Nando's to the scheme.
"Merchants can host these types of special without needing to train their staff, which can be timely and cost prohibitive.
"We can then go back to the merchant and give them information about the number of people that redeemed the offer and also the amounts that the card members were spending, so we can provide to them pretty rich data."
American Express stresses that it does not share data on its members' spending habits with Foursquare.
One brand manager said it was notable that Foursquare had decided to go into partnership with an established credit card operator rather than one of the new phone-based payment systems that had launched in the UK.
"From a brand perspective Foursquare is still seen as a game in the eyes of many users and this may be seen as a move to add more credibility to its brand," said Joe Ryrie, creative strategist at the Fig Tree Network.
"Amex is a trusted financial name. It may seem like a strange move but by partnering with a traditional organisation, the social network could appear to have more long-term appeal and relevance than some other players in the discount market."