Queen's speech: App lets you text like Her Majesty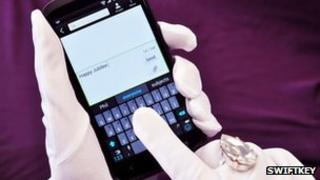 A new mobile phone app helps Android users to write emails, texts and tweets in the style of the Queen.
The software has been developed by the British company Swiftkey and predicts words and phrases the Queen is statistically most likely to type.
The app is based on analysis of Queen Elizabeth's published speeches since coming to the throne in 1952.
According to the company's research, "My government will" is the most used word sequence in the Queen's language.
Swiftkey co-founder Ben Medlock told the BBC that all publicly available Queen's speeches and addresses were electronically analysed to develop the software.
Optimistic tone
Based on the analysis, the key to sounding more like the Queen is frequent use of the phrase "My government" and not using contractions such as "it's", "can't" and "don't".
The company has developed personalised versions of its software for William Shakespeare, James Joyce and Charles Dickens, but this is the first version that emulates the language of a living person.
The high frequency of words such as "confident", "delighted" and "pleased" in Queen Elizabeth's speech could be seen as an indicator that she is in a rather optimistic frame of mind, according to Ben Medlock.
He says one of the most striking findings is that, contrary to public belief, the Queen uses "I" six times more than "one" when referring to herself.
Swiftkey is a keyboard app for Android phones and tablets and has been downloaded six million times so far.
It is designed to make it easier to enter text. The software learns language patterns from the user, and starts anticipating what might come next and throwing up suggestions.
Swiftkey says the top 10 of the Queen's most uttered phrases are:
My Government will - 217 times
Men and women - 144 times
The United Kingdom - 139 times
Prince Philip and - 135 times
Will continue to - 123 times
Be introduced to - 119 times
Will be introduced - 118 times
It is easy - 113 times
The Commonwealth - 111 times
Philip and I - 101 times