Google to charge companies for product search listings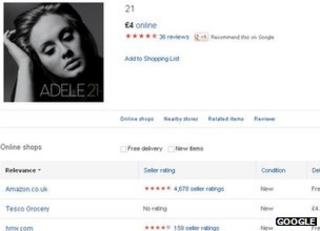 Google is to start charging for listing products in its Product Search service. From autumn, only retailers who have paid a fee will appear.
For the past 10 years the price comparison service's results were based solely on relevance.
It drives traffic worth about $1.3bn (£849m) in annual sales globally, according to e-commerce consultants Channeladvisor.
The move has the potential to generate new profits for the US firm.
"We believe that having a commercial relationship with merchants will encourage them to keep their product information fresh and up to date," said Sameer Samat, vice president of product management for Google Shopping in a blogpost.
"Higher quality data - whether it's accurate prices, the latest offers or product availability - should mean better shopping results for users, which in turn should create higher quality traffic for merchants."
The service, which will be renamed Google Shopping, is available by clicking "more" on the search site's toolbar.
Additional costs
Martin Gill, principal analyst with Forrester Research, said Google Product Search had been a popular way to drive traffic to websites without incurring extra costs.
"Consumers are more likely to search for a product in a search engine than directly on a company website," he said.
"These changes add another layer of complexity to online advertising."
Amazon and eBay are among companies that have profited from traffic driven by Google's price comparison lists and now face fees if they want to continue appearing.
The changes may come under close scrutiny by the European Commission, further complicating an ongoing investigation into whether Google has abused its dominant market position.
"If Google is transparent to consumers about the new sponsored results and promoted search results, they have a better chance of securing a settlement in the antitrust investigation" said Mr Gill.