Amateur rocketeers plan Jubilee launch bonanza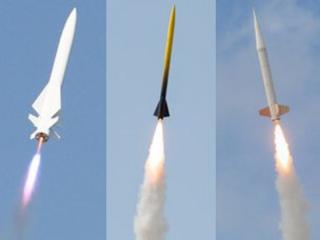 A four-day festival of amateur rocketry is being planned for the Jubilee weekend.
Amateur rocketeers from all over the UK are expected to descend on a site near Cambridge for the event.
Organisers are expecting up to 150 launches during the festival and the biggest craft are expected to reach altitudes of about 10,000 feet (3km).
Workshops will be run every day to help novices and newcomers launch their first rockets.
High power
The Festival Of Rocketry is being jointly organised by the East Anglian Rocketry Society (Ears) and the UK Rocketry Association (UKRA).
Ears holds an annual two-day launch event known as Big Ears and had planned to extend this to take advantage of the longer Jubilee weekend.
Big Ears has now been expanded to include UKRA's annual rocketry event because the original site for the 2012 event suddenly became unavailable, said UKRA council member Ben Jarvis.
Combining the two events has created what is likely to be the biggest amateur rocketry event ever held in the UK, he said.
Early indications suggest up to 150 amateur rocketeers will go to the launch site near Elsworth in Cambridgeshire to launch their craft. Mass launches of high-powered rockets are being planned to ensure spectators have a lot to see and one school club will attempt to launch 60 small rockets simultaneously.
"It's going to be more of the big, loud and spectacular rather than anything small going a really long way," said Mr Jarvis. At the festival, Mr Jarvis is planning to launch a 9ft (2.7m) tall scratch-built craft to which he is still putting the finishing touches.
Spectators will get a chance to carry out their own launches as veterans will run workshops during the festival to help novices, both young and old, put together their own rockets.