E3: Playstation gets augmented reality Harry Potter book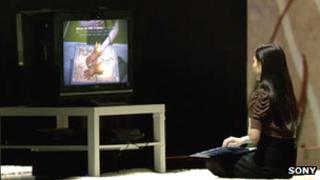 Sony has unveiled Wonderbook - an augmented reality product for its Playstation 3 games console.
When users hold up specially created books to a connected camera they appear on screen with added interactive graphics, which can in turn trigger mini-games.
The first book will be a new Harry Potter title part-written by the series' author JK Rowling.
The announcement was made at the E3 video games trade show in Los Angeles.
The move is part of efforts designed to keep people interested in the Playstation 3 as Sony continues to work on its successor.
The firm's share price fell below 1,000 yen ($12.77, £8.29) earlier this week for the first time since 1980. Investors are worried about competition from Samsung and Apple as well as the strength of the Japanese currency.
The firm will face a fresh challenge later in the year when Nintendo releases its next-generation console the Wii U.
Fire spells
"Welcome to the reinvention of the story book," said Dave Ranyard from Sony London Studios. "Words, pictures, stories come to life in a way never seen before."
The system relies on the Playstation's Eye digital camera and the Move motion controller, which appears on the screen as a magic wand in launch title The Book of Spells.
Users are taught gestures to trigger different kinds of magic and can then take part in activities such as setting fire to paper dragons.
Sony has attempted to promote augmented reality on its console before with EyePet - software that lets users interact with a virtual animal - and the card-based game Eye of Judgement. Both had limited success.
But one gaming expert thought the new product would prove to be more popular.
"For something like that they need a big hook to cross the barrier between the core people who understand it and the gigantic mass of people who don't," said Casey Lynch, editor-in-chief of the games news site IGN North America.
"That hook is JK Rowling. Using an author like her and the work she is known for is really smart on Sony's part."
The firm said it would also work with publishers to bring educational and scientific titles to the platform.
Mobile gaming
Sony also used its press conference to promote its Playstation Vita handheld console which will be released in a "crystal white" edition.
It will get two spin-offs to best-selling series - Call of Duty Black Ops: Declassified, and Assassin's Creed 3: Liberation - as well as a new title, Playstation All-Stars Battle Royale.
Classic games written for the original Playstation console will also be ported to the device including Tomb Raider and Final Fantasy titles.
However, there was no news of a rumoured price cut.
"I don't think what they came out with today will be strong enough to carry the Vita without a significant price drop," said Mr Lynch.
"The only exception may be Activision's Call of Duty because it has such a giant core following, but the question is whether those people will be interested in converting to a handheld experience when Black Ops 2 is coming out for the main consoles later this year."
Sony confirmed plans to bring more games to smartphones, naming HTC as the first third-party manufacturer to offer titles marketed under its Playstation Mobile brand.
Hollywood actress
Much of the rest of the press conference focused on new titles for the Playstation 3.
These included Beyond, a new supernatural title from Quantic Dream, the developers behind Heavy Rain.
The game features a motion-captured performance by the Hollywood star Ellen Page.
Other titles highlighted at the event included Ubisoft's Far Cry 3, SCE Studio's God of War 3 and Naughty Dog's post-apocalyptic survival title The Last of Us.
The announcements followed Microsoft's Xbox event which also spent much of its time promoting upcoming games.
"Sony and Microsoft are wringing the last drops out of the current generation of machines," said Marc Cieslak who is covering the event for BBC Click.
"The titles they are announcing look very good indeed, but we are definitely at the end of the current console cycle. Everyone from developers to consumers is in a holding pattern for what comes next."