Nintendo unveils first Wii U games including 'hardcore' titles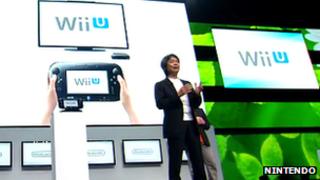 Nintendo has shown off 23 of the first games to be launched on its upcoming Wii U console.
Several - including a Batman spin-off and a violent zombie-themed title - are designed to appeal to "hardcore gamers" who have traditionally opted for other games machines.
The firm also revealed that the device would be able to support two of its touchscreen game pads at the same time.
However, it did not set a launch date beyond referring to "the holidays".
The period usually refers to the months of November and December in the US. The firm had previously said the machine would be released in Europe, Australia, the US and Japan before Christmas.
Details of the console and controllers' costs were also not discussed at the presentation held at the E3 games trade show in Los Angeles.
Serious gamers
The Wii U will be the first of the next generation of games machines to launch. Sony and Microsoft have yet to reveal details of their plans.
News that the titles - including Batman Arkham City: Armored Edition; Aliens: Colonial Marines; Mass Effect 3; Assassin's Creed 3 and ZombiU - are under development for Nintendo's machine may help extend its appeal.
"The criticism of the Wii U had been that it didn't address serious gamers who are looking for complex, graphics-heavy titles," said Bridget Carey, senior editor of the tech site Cnet.
"So they are coming out with all these titles. Many of them are already around on other consoles, so it's not going to wow many people.
"But this is Nintendo saying we're there for every type of gamer, not just family fun - which is their biggest strength."
Mario returns
Announced titles targeting the casual gaming market included New Mario Bros U, Pikmin 3 and Scribblenauts Unlimited.
Nintendo Land will also feature several of the firm's existing characters in mini-games and is intended to help introduce users to the concept of the new Wii U Game Pad controllers.
The game pads feature a touchscreen which Nintendo claimed would help "revolutionise" gaming.
Examples of its uses included allowing a player to check their inventory while the action continued on the main screen, setting off explosives by tapping on the appropriate part of the handset's image, and playing games on the small screen when other family members wanted to use the TV.
Nintendo also promoted the integration of its Miiverse social network, allowing a user's friends to pass on tips or boast of their recent scores while play continued.
Winter rush
Nintendo's shares dropped last year after it first announced the Wii U, and in April it declared an annual net loss of 43.2bn yen ($533m; £329m).
One analyst attending E3 said there were still unanswered questions that could determine if the firm would turn its fortunes around.
"They are really focusing on the game content, but the question is when these games and the console itself will be released," said Brian Blau, research director at the technology consultants Gartner.
"They need to come out some time in advance of Christmas to have an impact. If they come late in the buying cycle I'm slightly worried for their overall success."
The Engadget tech site highlighted another issue: the Game Pad can only be used wirelessly for 3 to 5 hours before its battery needs to be recharged, according to a specification sheet posted on Nintendo's site.
That is significantly less than controllers without a touchscreen, such as Sony's Dual Shock 3 which lasts between 20 to 30 hours on a charge when new.