Facebook launches app centre to promote third-party software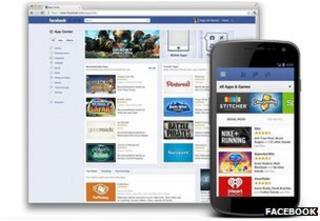 Facebook has launched an app centre to help its members explore software available on the social network.
The service will be available on desktop computers as well as on Android and iOS system-based phones and tablets running Facebook's own app.
The move may boost Facebook's revenues since it takes a 30% share of in-app purchases made using its credit system.
Members in the US are the first to be able to access the store, with the UK and other countries to follow.
The firm said each user would have a "personalised experience" with recommendations based on what apps they and their friends used.
It added only "high quality" apps would appear with the criteria based on members' ratings and how often they were used.
More than 600 apps - including games such as Electronic Arts' The Sims, utilities such as video app Socialcam and social sharing services like Pinterest - have made the initial cut.
"Every app in the App Centre has screenshots and a detailed description, so you can learn more about it before installing it," said Matt Wyndowe , Facebook's product manager for apps and games.
"It helps you control your privacy by showing the information an app needs and letting you choose who can see your activity on Facebook."
Mobile money
Facebook warned last month that its "financial performance and ability to grow revenue would be negatively affected" if it was unable to find ways to make more money out of its mobile users.
The firm recently started letting advertisers buy "sponsored stories" which are placed in its mobile app's newsfeeds, but has been wary of placing too many commercials to avoid a backlash.
One analyst told the BBC that the app store would help address the problem.
"At least half of Facebook's members use mobile and it really needs to find a way to make money out of them," said Benedict Evans from Enders Analysis.
"If you look at Apple it has a fantastic app platform, but unless you are a high profile brand, getting noticed is like being struck by lightning.
"What Facebook wants to provide is a discovery mechanism that sits on top of its store and encourages you to share apps and content with friends - and there is huge appeal to developers in that."