Researchers work on smart city search engine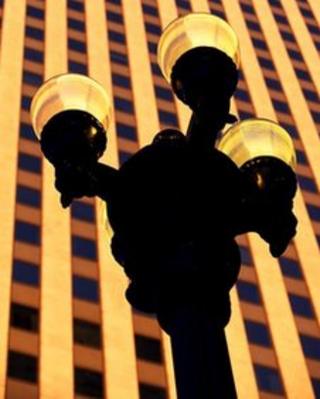 Researchers at the University of Glasgow are working on an urban search engine that will interrogate sensors and answer questions such as: "How crowded is the city centre?"
Sensors attached to traffic lights, lamp-posts and other city landmarks are seen as key to creating smarter cities.
They will create a vast amount of data and the hope is that citizens will make use of it to improve city life.
The plan is to test the search engine in a real city by 2014.
The project is part of a European-funded initiative, known as Smart ("search engine for multimedia environment-generated content"), which aims to create a system for internet users to search and analyse data from sensors.
The search engine will answer queries by automatically identifying cameras, microphones and other sensors that can contribute to the question.
"Smart builds upon the existing concept of 'smart cities', physical spaces which are covered in an array of intelligent sensors which communicate with each other and can be searched for information," said Dr Iadh Ounis of the University of Glasgow's School of Computing Science.
"The search results sourced from these smart cities can be reused across multiple applications, making the system more effective."
The project is a joint research initiative of nine partners including Atos, Athens Information Technology, IBM's Haifa Research Lab, Imperial College London, City of Santander, and PRISA Digital and Telesto.