Sweden Twitter campaign marred by 'Jew' comments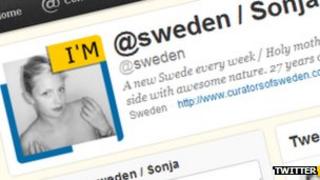 A campaign designed to promote tourism in Sweden has caused controversy after a woman controlling its Twitter account posted messages about Jews and Nazis.
The @Sweden account is run by a different Swedish citizen every week - this week, mother-of-two Sonja Abrahamsson has been in control.
She tweeted messages such as "What's the fuzz with Jews" before later apologising.
A spokeswoman for VisitSweden said the tweets would not be removed.
Marketing director Maria Ziv said that had she deemed the comments to be racist, then "we would have taken them down".
The account, which has over 40,000 followers, has to date been controlled by a diverse spread of the country's population , including a female priest and a lesbian truck-driver.
But it is Ms Abrahamsson who has caused the most controversy so far.
Breastfeeding
In one of her postings, she wrote: "You can't even see if a person is a Jew, unless you see their penises, and even if you do, you can't be sure!?"
Later, and after a slew of negative comments sent to her, she wrote: "Im sorry if some of you find the question offensive. Thats was not my purpose. I just don't get why some people hates Jews so much."
On Wednesday, she tweeted an image of herself breastfeeding her son.
In earlier messages, she uploaded a photoshopped image of the late Freddie Mercury looking at a table of food. The image had the caption: "This pic I call 'hungry gay with aids'".
However, despite the negative comments, some of the accounts followers praised Ms Abrahamsson for her frankness.
People using the @Sweden account do not have their tweets pre-read or censored, but are told to suffix any political opinion with the hashtag "#myownopinion".
Speaking to the BBC earlier this month, Malin Nyberg, from VisitSweden's London office, said: "This is really showing just how many different kinds of people there are in Sweden.
"By doing this, people will get more interested and curious about Sweden.
"When things are not as you think they are, you get curious and you want to know more."