Apple shares advert cash generated by Baidu searches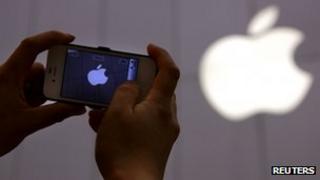 Apple is to get a share of advertising revenue generated by searches using China's Baidu service.
The revenue-sharing deal is a result of an upgrade to iOS which sees Baidu used as the default search engine on Apple gadgets sold in China.
The iOS 6 update applies to both iPad tablet computers and iPhones.
The move is widely seen as a snub to Google and a key plank in Apple's plans to improve its market share on the Chinese mainland.
Elite market
Baidu is the dominant saerch firm in China and about 80% of the searches done in the country take place via its site. How much cash Apple can expect from the deal has not been revealed.
About 20% of Apple's sales were generated in China in the firm's last quarter. It is keen to improve its standing among China's increasingly affluent middle-class.
"IPhone users are China's elite," said independent analyst Bill Bishop.
"This is good for Baidu though it is not really clear Apple had much choice," he said. "Google search is unreliable in China and other Chinese search engines still do not offer a good user experience."
One unknown quantity, he said, was how well Apple's voice search software Siri would work with the Chinese language. If it worked well that could reduce the number of searches sent via Baidu.
The update to iOS will see an app for Baidu installed on iPads and iPhones sold in China.
News about the deal emerged soon after the closing of Apple's World Wide Developers Conference. At that conference, Apple announced plans to end its use of Google Maps on its smartphones and tablets.