Arrests in Japan over mobile porn virus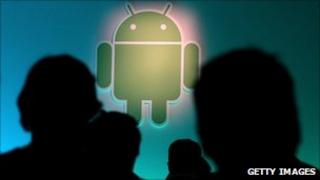 Six men have been arrested in Tokyo for creating a virus that targeted users of Android mobile phones.
The malicious program masqueraded as an application for watching videos and was made available via a porn site.
The downloaded app did not show video but instead flashed up a demand for a payment of 99,800 yen (£805) every five minutes.
Japanese police said the men were believed to have made more than 20m yen (£161,158) from the scam.
Viral growth
The six men created the porn site, seeded it with video content and then added the booby-trapped Android app, said police.
Almost 10,000 people downloaded the video-viewing virus, said Japanese police, but only 211 handed over cash.
Those who did not pay also suffered, said police, because once installed the virus stole contact and personal information from phones.
Two of those arrested were currently senior managers in hi-tech firms in Japan, police said.
The case is believed to be the first in Japan that involves a virus written specifically for smartphones.
Many security firms warn smartphone owners to avoid third-party sites that offer free apps as these are more likely to be have malicious code hidden within them.
Android has rapidly become popular with virus writers that target mobiles, said Trend Micro. Earlier this year it predicted that by the end of 2012 there could be more than 120,000 malicious Android apps in circulation .