Facebook scraps its own Credits currency for apps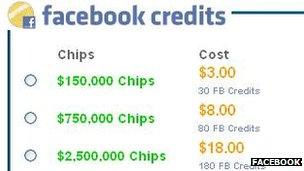 Facebook is ditching its own money system, Credits, and will convert the balance of its members' accounts into their local currencies.
Previously, app developers wanting to charge users for virtual goods or other premium features sold via the network had to use the service.
Facebook said it was making the change to "simplify the purchase experience".
The move may help boost the firm's profits. It takes a 30% cut of all transactions made on its network.
A post on its developer blog also announced that it would allow app creators to charge subscriptions from July. Game publishers Zynga and Kixeye had already been allowed to test out the feature.
Facebook had previously market Credits as a "safe and secure way" to make online payments, allowing users to buy them by credit card, PayPal or via prepaid cards sold at retailers.
Members were encouraged to buy large sums at one time by the promise of discounts - for example 50 credits cost $5 (£3.20) but 2,360 credits cost $200, representing what the firm termed an "18% bonus".
However, third-party developers tended to subsequently convert Credits into their own in-game currencies, making it harder for users to keep track of what they were spending.
"Since we introduced Credits in 2009, most games on Facebook have implemented their own virtual currencies, reducing the need for a platform-wide virtual currency," the firm's product management director Prashant Fuloria told developers.
"With local pricing, you will be able to set more granular and consistent prices for non-US users and price the same item differently on a market-by-market basis."
The news comes less than a fortnight after the firm launched an app centre in the US to promote software on its network.
One analyst told the BBC that there was sense in simplifying its processes, but the move carried risks.
"The problem with Facebook Credits was that it was pretty restrictive," said Ian Maude, head of internet at Enders Analysis.
"Doing this takes the headache away from Facebook of having to force people to use its system.
"It still takes part of the revenue which is much more simple, but the danger is that it could end up with a 'farmers market' - a less cohesive solution in which there are a multitude of payment solutions being offered on its network."
Related Internet Links
The BBC is not responsible for the content of external sites.