UN turns players into refugees in a new app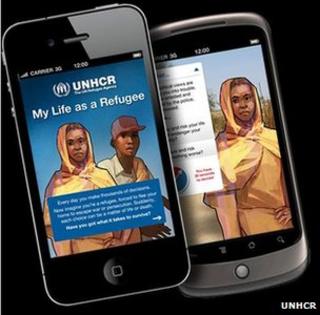 The UN refugee agency has released a smartphone game, aimed at raising awareness about the experiences of refugees around the world.
"My life as a refugee" takes players into a scenario of fleeing conflicts and searching for family members.
The UNHCR says it is based on the real-life accounts of refugees.
One analyst said the title was unlikely to have the mass appeal of games like Angry Birds, but should still find an audience.
In the description of the game on its website, the UNHCR says it: "brings to life the refugee experience and highlights some of the life-changing decisions and consequences faced by millions of refugees worldwide."
By turning players into virtual refugees fleeing persecution or armed conflicts, the app takes them through a series of challenges - "true-to-life quests" while trying to find their families and reach safety.
Getting interest
According to the world body, the game was developed to "entertain and educate players with interactive narratives based on real-life experiences of families torn apart by conflict or persecution".
But the main challenge for the refugee agency is to make people aware that such an app actually exists, says Jack Kent, a senior analyst from IHS Screen Digest, a firm that analyses trends in digital media.
"This game is not designed to compete with high-profile games such as Angry Birds or [titles by] Zynga, it is one of those educational apps, but for it to generate awareness about the subject, its developers should promote it the right way, " Mr Kent told the BBC.
"So the biggest challenge is promoting it through schools, getting teachers on board, and getting users to share it once they know about it."
The BBC was unable to reach UNHCR for comment.
For now, the app is available on Android phones, but an iPhone version is to come out in the near future.