TEDGlobal: Burns portrait comes alive at TED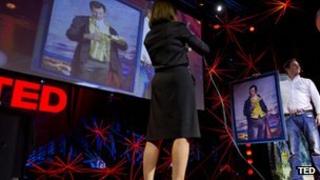 An augmented reality app has brought a Robert Burns portrait to life on the TEDGlobal stage.
The demonstration was part of a session at the TEDGlobal (Technology, Entertainment and Design) conference dedicated to makers and DIY-ers.
With a nod to the talking portraits at Harry Potter's Hogwarts, Matt Mills - head of innovation at the Cambridge start-up Aurasma - showed the TED audience a picture of the famous Scot.
With the app overlaid, the portrait moved and the poet drank from a bottle of whisky.
"Imagine if a mobile phone can see the world in the same way we do," Mr Mills said.
DIY technology
As well as being used in art galleries to bring pictures to life, the app could be used by advertisers, educators and the media, he added.
Sharing the stage with Mr Mills were a series of DIY technologists, determined to prove that innovative new products were not just the preserve of large corporations.
Biohacker Ellen Jorgensen described the criticism she faced when she set up community biotech lab GenSpace in Brooklyn three years ago.
Many felt that she should leave "science to the scientists", she said.
Dog mess
But bio-hackers, as the DIY scientists are known, can offer solutions that the traditional scientists have not found, she said.
They can also solve more mundane problems.
One of the bio-hackers she worked with used his newly-learned scientific knowledge to track down the dog responsible for fouling his local pavement.
"He identified the dog by throwing tennis balls to all the local dogs and collecting their DNA. Then he confronted the dog owner," said Ms Jorgensen.
In the same session, Massimo Banzi described the diverse uses, DIY computer enthusiasts have found for his affordable, open-source computer motherboard Arduino.
From a man who had used it to create a "smart" cat feeder able to recognise each of his cats and give them the correct amount of food, to quadcopters used to transport things from one African village to another, access to a cheap microcontroller was creating a buzz in the maker community, he said.
"It allows people to build something that you can't buy on the market. There is now a turbo-charged DIY community."
Muting Kardashian
One of the loudest cheers came for a 14-year-old Brazilian boy who had used Arduino to create an earthquake prediction system ahead of the government.
And the biggest laugh went to Matt Richardson who has used the system to create "Enough already", a system that mutes the TV when overexposed celebrities talk.
"It is protecting our ears from the details about Kim Kardashian's wedding," he said to much TED merriment.
Making a more serious point, smart materials DIY-er Catarina Mota explained why it was important to open up new technology to the general public.
"Tinkerers and amateurs are the real innovators," she said.
"In future we will have walls that can change colour and keyboards that roll up. If we are to live in a world of smart materials we should be able to understand how they work."