Google sets up 'raw' server service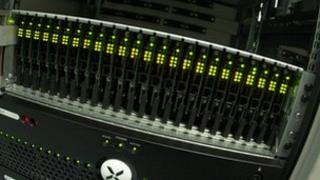 Google is opening up its global datacentres to anyone that needs access to vast amounts of computer horsepower.
The company has taken the wraps off a service called Compute Engine that lets companies and developers get at its hardware.
Those who sign up will be able to run almost any program they want on Google's servers.
The launch is widely seen as a response to similar services offered by both Amazon and Microsoft.
Power play
Google's Urs Holzle, who oversees the search firm's infrastructure, unveiled Compute Engine at the I/O Developers conference.
Mr Holzle said the service was aimed at those organisations that needed to call on huge amounts of computer power. In a demonstration at the conference, Mr Holzle showed a genetic analysis application that used 600,000 processors.
Compute Engine will sit alongside Google's App Engine that was launched in 2008. The older service places many restrictions on the applications that can run on Google servers and goes as far as to limit what programming language software developers can use.
By contrast, the Compute Engine will be packaged as a "raw" service and give customers far more freedom to run applications.
Google said the service was currently in a test phase that would last a few months before it was opened up to any customer. The company claimed that its expertise in running large datacentres meant it would be able to undercut rivals and offer almost 50% more computer power for every dollar spent.
In setting up Compute Engine, Google is taking on rivals Amazon and Microsoft.
Amazon's Elastic Compute Cloud (EC2) service is the market leader in barebones processing and has been so successful that some estimates suggest that it is now behind 1% of all net traffic.
Many firms use EC2, and similar services such as Microsoft's Windows Azure, to handle spikes and peaks in traffic.
Other news
Google made other announcements on day two of the I/O conference in San Francisco.
It introduced a version of its Chrome web browser for iOS, the operating system that runs on Apple iPhones and iPads. Chrome now has about 310 million active users, and Gmail 425 million, it said.
Google also said that full offline editing would be available for its Docs service.
In other Google news, Adobe announced that it would no longer be supporting Flash on Android phones after version 4.1. Instead it will back HTML 5 as the way to show multimedia content on those devices.