Apple under fire over Italian product warranties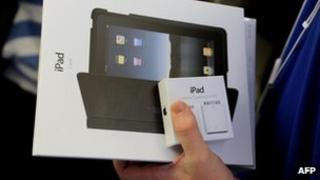 Apple's stores and facilities in Italy could be shut for 30 days because of a row about product warranties.
Italian authorities made the threat because it said Apple was not promoting a standard free two-year warranty.
Apple has already been fined for not telling customers about the warranties and could face more financial penalties if it does not comply.
Instead of the standard warranty, Apple has been pushing its own paid-for service contract.
In late 2011 Apple was fined 900,000 euros (£722,000) for failing to let Italian customers know about the standard two-year free warranty that applies to its products.
By contrast, Apple's own care scheme is free for a year but can be extended to two years for a fee.
Apple's appeal against the fine was rebuffed by an Italian court in May.
However, in a bid to force Apple to pay its fine the country's competition and market authority (AMCG) has threatened further sanctions. In documents explaining its action the AMCG said Apple was being "aggressive" in its tactics of offering its own care scheme.
Its actions, said the AMCG, constituted an "unfair practice" that was likely to lead consumers into error.
Apple had made some attempts to do a better job of telling customers in its stores and online about the free warranties, said the AMCG, but the changes had not gone far enough.
The standard warranty and Apple's own plan, called Apple Care, do not offer the same protection to customers. The standard Italian warranty means firms have to replace a product if it proves defective as soon as it is taken out of the box.
By contrast, Apple Care is for problems that occur after the gadget in question has started to be used.
If Apple does not comply with Italian law and take more trouble to tell customers about the free warranty, the AMCG said its stores and other operations in Italy would be closed for 30 days. In addition it could face a further fine of 300,000 euros.
Apple has 30 days to respond before action is taken.
In a statement, Apple said: "We've appealed the recent decision of the court as it was, in our view, based upon an incorrect interpretation of the law. We've introduced a number of measures to address the [Italian authorities'] concerns and we disagree with their latest complaint."