Kodak beats patent sale challenge by Apple and Flashpoint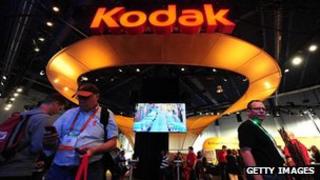 Kodak says a bankruptcy court has given it permission to auction more than 1,100 of its digital imaging patents.
The debt-struck firm aims to use the proceeds to prevent its collapse, letting it focus on making printers.
Apple and Flashpoint - the developer of a filesharing platform - had opposed the move claiming they owned some of the technologies being sold.
Kodak said it now hoped to sell the intellectual properties in early August.
The firm added that it would take steps to establish what it termed "adequate protection" for Apple and Flashpoint if their claims were later ruled to have been valid. This could involve some form of compensation or the buyers taking on responsibility for settling the dispute.
"We are gratified that the court has enabled us to move ahead with our patent auction in a timely manner and with clarity on ownership for the winning buyer," said Kodak's chief intellectual property officer Timothy Lynch.
Both Apple and Flashpoint declined to comment.
Paying its debts
The auction will be carried out in two batches.
One portfolio will include about 700 patents covering image capture, processing and transmission technologies for digital cameras and other devices.
The other group will include tools for image manipulation, tagging and network-based services.
Kodak said it had generated more than $3bn (£1.9bn) from licensing its innovations over the past decade.
When it filed for bankruptcy protection in January it listed $6.8bn worth of debt against $5.1bn of assets.