Olympic Games coverage: HD, robotic cameras and 3D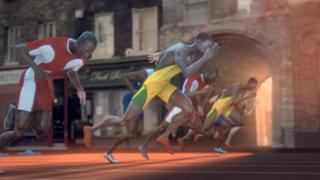 Somewhere beneath the streets of London, four miles of fibre optic cables linking the Olympic Park to the BBC's Television Centre lie in darkness.
But when the Olympic opening ceremony starts on 27 July, data will flash through them as they transmit the highest definition pictures Olympic coverage has ever seen.
Technology has come a long way since the last Olympics in London in 1948, broadcast in black and white.
The cables will carry ultra-high definition video, which at a resolution of 7680x4320 is an astonishing 16 times the quality of HD television.
The video technology was developed and supplied by Japanese broadcaster NHK, and is known as Super Hi-Vision.
It will be sent to the world's first ultra-high definition production centre at the BBC, and then over high-speed data networks to four giant screens around Britain, two in Japan and one in the United States.
"When you see this type of ultra-high definition television, it's just like looking though a glass window," said Tim Plyming, the BBC's Super Hi-Vision project leader.
"This is the highest definition that the human eye can understand - it's the end of the story in terms of resolution."
Going 3D
But with only a handful of screens around the world capable of displaying ultra-high definition pictures, an estimated 4.8 billion sports fans will be turning to their televisions, computers, or mobile devices to catch the Olympic action.
London 2012 will be the first Olympics to feature live 3D television broadcasts, and 33 "true 3D" cameras will be used to capture more than 230 hours of 3D coverage.
The BBC will broadcast the opening and closing ceremonies and the men's 100m final in 3D, and pan-European broadcaster Eurosport will also be providing 3D coverage.
The BBC will broadcast more than 2,500 hours (equivalent to almost four months) of high definition television over the 17-day period, covering every sport, from every venue, on every day.
To squeeze it all in, the corporation will use 24 Olympic channels, which will be available via the BBC Red Button or channel numbers in the electronic programme guides on cable and satellite services.
The same 24 television channels will also be available as 24 high definition online streams, tailored for viewing on connected TVs, PCs, tablets and mobile phones, and the BBC expects online viewing figures will be the highest ever.
"For moments involving British athletes, or major games moments, we have planned for a doubling of streaming capacity over the highest we have ever needed before," says Phil Fearnley, BBC Future Media's general manager.
The BBC has recently introduced a new video delivery technology called "chunked streaming " which makes it possible for a viewer joining halfway through an event to "rewind" the stream back to the start.
This technology will feature in the BBC's new Live Interactive Video Player, which is being introduced specially for the Olympics on its website.
It allows visitors to switch between the 24 live streams instantly, rewind to earlier parts of the action, receive alerts about big moments on other channels ("Tom Daley is diving now!"), and access real-time statistics and information about individual athletes or events.
"This is a knockout piece of technology," says Mr Fearnley.
Mobile experience
For mobile users, a mobile site will mirror much of the desktop experience, adapted to the size of their device's screen.
Apple and Android users will also be able to access the 24 live video streams and highlights.
BBC Olympics apps for Apple and Android smartphones will include all the features available on the mobile browser site, plus the ability to read content even when disconnected from the internet.
There is also a BBC Sport app for Virgin Media's TiVo service, Sony, Panasonic and Samsung internet-connected televisions and Sony's PlayStation games console, which allows viewers to watch online streams, on demand highlights and news headlines on their TVs.
Around the globe
The BBC's streams are only available in the United Kingdom, but viewers elsewhere in the world will be turning to other sources of online coverage.
In the US, NBC will be adding to its broadcast and cable television coverage with streamed content delivered using technology provided by YouTube, and the International Olympic Committee plans to provide a live stream to sports fans in 64 countries across Africa and Asia using its own dedicated YouTube channel.
No Olympics would be complete without photographic imagery - and Getty Images, the official photographic agency, expects to shoot more than one million pictures during the games.
These will include 3D images - an Olympic first - and high resolution 360 degree panoramic photographs.
Some of London's Olympic venues, including Wembley and Excel, do not provide photographers with ideal vantage points, according to Getty Images' Ken Mainardis.
To get around this problem, Getty is pioneering the use of robotic cameras installed in the roofs of these buildings.
Photographers up to 200m away can see each camera's view on a laptop screen, adjust the camera settings using software running on a laptop, and move the camera and take photographs using a joystick.
Back in 1948, it took hours just to get photographs developed, but Mr Mainardis says fibre optic networks allow the best Olympic pictures to be made available across the globe in minutes.
"From the moment an athlete crosses a finishing line, a photograph will arrive at a newspaper as far away as Australia in about 180 seconds," he says.