Call of Duty to launch in China as free online title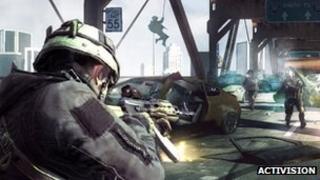 An online-only version of the massively popular video game Call of Duty is to be made available to play in China.
Developer Activision has teamed up with Chinese internet service provider Tencent on the free-to-play title.
The game will earn income through the sales of in-game items.
Activision boss Bobby Kotick said: "We think China is one of the most exciting places in the world for us to grow our business and to develop innovative new games."
"We have worked closely with Tencent to create a game with broad appeal for the Chinese market," he added.
The game will also feature a storyline developed specifically for the local market.
Public testing
The game has been in development for two years at a games studio in China.
According to the Wall Street Journal , it will be released for public testing later this year, following a regulatory review.
The company said gamers would be able to use an in-game store to "enhance their weapons, gear, and perks built specifically for the Chinese market".
Tencent, which is a major player in the Chinese market, offers several internet services, including Tencent Weibo, a Twitter-like microblogging site.
Its instant messaging service, Tencent QQ, has more than 600 million users.
This is not the company's first foray into computer gaming. It already runs several online games, as well as owning a small stake in Epic Games.
Tencent's president, Martin Lau, said: "We believe Call of Duty Online will attract tens of millions of loyal fans in China, and our game platform and operational expertise to run massive multi-player online games can provide strong support to deliver the immersive and highly interactive game experience."