Galaxy Nexus back on sale in US after Apple's ban is halted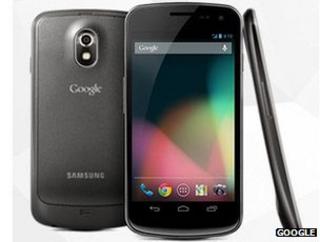 Samsung has convinced a US court to lift temporarily a sales ban on its Galaxy Nexus smartphones.
The restriction came into force last week after Apple secured a preliminary ruling that the South Korean firm had infringed one of its search patents.
The appeals court did not explain the reason for the U-turn. Apple now has until Thursday to file a response.
The case has implications for other Android-powered devices and may lead to Google having to limit some functions.
Florian Mueller, a patent consultant who is following the case, said that if Apple managed to get the ban reinstated it could be months before Samsung got another chance to overturn it.
He added that the case was not due to come to full trial until March 2014.
Search limits
The disputed patent was filed by Apple in 2004. It involves the use of a single search interface to retrieve and display information gathered from a range of systems using a number of techniques.
Apple has used the innovation for Siri - its voice-activated search function that gathers information from Google, Yelp, Wolfram Alpha, Yahoo and Wikipedia.
The Nexus - and some other Android devices - offer a quick-search option on their homescreens and a voice-activated feature which also retrieve information from a range of sources.
Apple had claimed that since it had not licensed its innovation to Samsung, the Nexus should be removed from sale.
"Samsung can now sell its Nexus phones again, but may find that the ban is reintroduced within days, effectively killing most of its market potential in the US," Mr Mueller told the BBC.
"But the bigger issue here is that other handsets - including Samsung's flagship Galaxy S3 - also offer the same disputed feature and Apple may aggressively enforce this patent against these devices as well, depending on the court's upcoming decision.
"Google may release an updated version of Android that removes the unified search technology but that would be a depredation of the user-experience meaning that the search results it gives are less useful."
Mr Mueller does work for Microsoft - a smartphone system competitor to both Apple and Google.
A statement from Apple said: "This kind of blatant copying is wrong and, as we've said many times before, we need to protect Apple's intellectual property when companies steal our ideas."
Neither Google nor Samsung were able to provide comment.