China's video sites told to pre-screen and censor content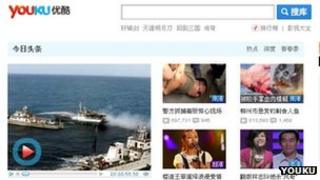 China's websites must pre-screen all videos under new censorship rules from its broadcasting regulator.
The State Administration of Radio, Film and Television (SARFT) revealed the move in a published series of answers to reporters' questions .
It said that site administrators would be expected to self-censor material to remove "violence, pornography and some swearing".
It said state officials would offer guidance, but did not give specifics.
The statement was published earlier this week but gained attention after tech news site The Register reported the move.
It suggested that the watchdog's decision to be ambiguous about exactly what qualified as being "vulgar" gave it greater room to manoeuvre in how it applied the law.
Video checks
SARFT said that the new regulations were a response to the rapid growth in online programmes. It said "netizens" had urged it to take action to protect young people's mental health, adding that the move should promote high-quality content.
Youku, the country's most visited online video site, said it should not be affected since it already employed hundreds of video-checkers.
"Nothing with vulgar or violent materials will pass," said a spokeswoman.
"If it is anti-party and anti-society, it definitely will not pass. No website will allow such content."
'Massive resources'
China already blocks many overseas video sites, including YouTube, although some of its citizens use VPN (virtual private network) services to overcome the ban.
However, the news may have major implications for domestic sites with limited resources, according to one academic.
"The regulations explicitly hold distributors of online video programming responsible for violations of propaganda discipline," blogged David Bandurski from the Journalism and Media Studies Centre at the University of Hong Kong.
"It remains to be seen how SARFT intends to enforce these regulations, particularly in the case of user-generated content.
"Clearly, if followed to the letter, the 'notice' would require massive resources."